Niebel, who began a visit to Israel on Saturday, told German newspaper Leipziger Volkszeitung in an interview to be published Monday that the move amounted to a "great foreign policy mistake by the Israeli government."
Niebel had planned to inspect a German-financed sewage plant in the Hamas-controlled area and meet representatives of the United Nations Relief and Works Agency for Palestine refugees.
"I had hoped that this could have been a clear political signal for an opening and for transparency," Niebel said in a separate interview on public German broadcaster ZDF.
"Sometimes the Israeli government does not make it easy for its friends to explain why it behaves in the way it does."
German politicians criticize decision
German Foreign Minister Guido Westerwelle said he regretted Israel's decision, adding that the German government continued to support an end to the Israel's blockade of Gaza.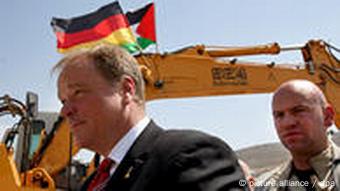 Niebel had planned to inspect a German-financed sewage plant
"This is not only the stance of Germany but also the stance of our partners in the European Union," Westerwelle said.
Islamist group Hamas took power in Gaza in 2007, after which Israel imposed a blockade on the small but densely populated coastal region.
Israel said this week that it was easing a land blockade of the Gaza Strip after a storm of international criticism following its raid on an aid flotilla bound for the Hamas-run Palestinian territory killed nine activists. Israel faced intensified international calls to relax or lift its Gaza embargo.
Ruprecht Polenz, a member of parliament of Chancellor Angela Merkel's Christian Democratic Party and chairman of the foreign affairs committee told newspaper Tagesspiegel there was no "political reason" for Israel's decision.
"The Israeli government is damaging the credibility of its new politics," Gernot Erler, deputy head of the Social Democratic Party's parliamentary group told newspaper WAZ. He added that he couldn't see how the denial to visit the Gaza Strip fit with the government's decision to ease the Gaza blockade.
"Five to twelve"
Referring to the loosening of the blockade that the Israeli government recently announced, Niebel said, "if the Israeli government expects support for its new Gaza strategy, it must first of all ensure more transparency and for a new partnership."
He said the blockade, which is aimed at preventing Hamas members in the Gaza Strip from obtaining weapons and materials to build rockets which are fired over the border into Israel, was not a sign of strength. Rather, he said, it was, "proof of unspoken fear."
Niebel urged the Israeli government not to let the clock run out on the remaining opportunity for peace talks.

"It is five to twelve for Israel," he said.
Israel defends decision
Israeli Foreign Ministry spokesman Yigal Palmor said the move was part of Israel's long-standing policy on Gaza.
"We do not allow senior politicians into Gaza because Hamas will manipulate such visits to gain legitimacy," said Palmor
On Sunday, Niebel met with Palestinian president Mahmud Abbas and Prime Minister Salam Fayyad and attended a ceremony marking the start of construction on a water purification plant in Nablus in the West Bank.
Reports say the German government has promised 42.5 million euros for development cooperation in the Palestinian territories in 2010.
Niebel is to meet Israeli officials in Jerusalem on Monday and Tuesday.
Author: Matt Zuvela (AFP/dpa)
Editor: Sonia Phalnikar