"We want to contribute by using our contacts in a few Arab countries to help calm the violence and the emotions," he said after talks with Bulgarian counterpart Ivaylo Kalfin. "We hope very much that we will be successful."
He reiterated comments made over the weekend at an international security conference in the southern city of Munich that he was deeply worried by the unrest and said a "war of cultures" must be averted and the violence stopped. But he also said that there were no plans to suspend diplomatic relations with any country.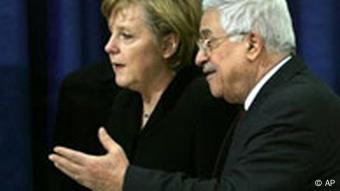 Merkel just met Palestinian leader Mahmoud Abbas in Ramallah on Jan. 30
Chancellor Angela Merkel on Monday also underscored her plea for calm made at the same conference.
"Violence is no way to settle a disagreement," she said.
Government spokesman Ulrich Wilhelm said that Berlin understood that many Muslims felt offended by the 12 caricatures of the Prophet Mohammed published by several European newspapers but said that the rage did not justify violence. Wilhelm added that the dialogue with the Islamic world was "one of the great themes of the coming years."
Travel warnings, but no threat in Germany
Steinmeier's spokesman said that the foreign ministry had updated its travel warnings for several countries, advising people to avoid gatherings and demonstrations in Syria, Lebanon and the Palestinian territories.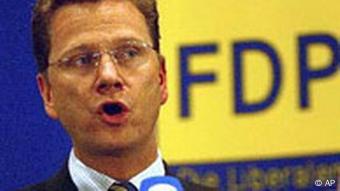 Guido Westerwelle
Interior ministry officials said that the security situation in Germany had not changed and added that there was no need to take further precautions.
Opposition leader Guido Westerwelle, the head of the free-market liberal Free Democratic Party, on Monday called on the government to scrap financial aid to states that tolerate or even support violence against European institutions. Members of the opposition Greens party have called for a parliamentary debate on "Germany's contribution to diffuse the cartoon conflict."
German flag burned in Iran
Global protests over the cartoons escalated Monday, with five demonstrators confirmed killed in unrest in Afghanistan, Somalia and Lebanon, and warning shots fired outside a US consulate in Indonesia.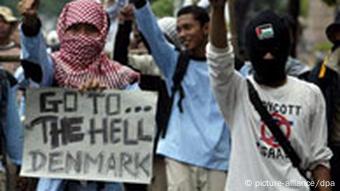 Protestors in Jakarta, Indonesia on Monday
After a weekend that saw Denmark's embassies torched in Lebanon and Syria, fury over the images continued to spread with protests held across Afghanistan and in Indian-held Kashmir, Indonesia, Lebanon, Iran and Thailand.
On Monday, some 200 demonstrators in the Iranian capital Tehran also threw stones at the Austrian embassy, breaking a few windows and starting small fires.
"Death to Denmark, death to Israel," the protesters, mostly students, chanted, according to the AP news service. Some burned flags of Germany, Denmark and France and one protester carried a caricature of Merkel, AP reported.
Iranian officials meanwhile announced Monday that they have suspended trade with Denmark.