When summer temperatures spike, Germans show their weakness for ice cream. With a heat wave putting July on a possibly record-setting path, domestic manufacturers of the frozen deserts have added seasonal employees and extra shifts to meet productions demands.

But ice cream manufacturers aren't the only ones benefiting from the heat. Demand for mineral water has tripled, and beer brewers are having trouble coming up with enough bottles to keep up with order volumes.

According to Ernst Kammerinke, of the Association of the German Confectionary Industry in Bonn, ice cream sales lagged during the first five months of 2010, as good weather failed to materialize until mid-June.

"Ice cream is a year-round business in Germany, that's a fact," he told Deutsche Welle. "But to develop a good sales volume, a nice spring and summer are naturally very important."

Dramatic increase in demand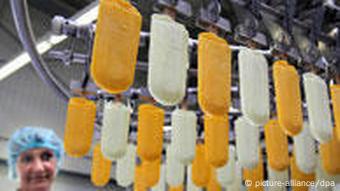 Ice cream production has increased dramatically
Lagnese, which belongs to food and cosmetics giant Unilver, sold more than 11.5 million portions of its popular "Magnum" ice cream bar during one week, a spokesperson told Germany's Bild newspaper, adding that the company is selling more ice cream each day than it did during the entire month of November.
At the Osnabruck factory of R&R Ice Cream Deutschland, a typical week during summer involves shipping 6,000 pallets of ice cream. This summer the factory is shipping up to 14,000 pallets each week with the help of 200 seasonal workers.

"We don't know how long it will last," Kammerinke said. "Of course, these last weeks have been very good for us, and we're hoping summer weather will continue through, say, August."

Although it is still too early to know exactly how this years' ice cream sales and profits will play out, Kammerinke said he is hoping Germans will consume at least eight liters per person this year. That would get close to the 2003 record of 8.7 liters per person.

But industrial ice cream manufacturers aren't the only ones to benefit from the summer heat. Anna Lisa Carnio, of the Union of Italian Edible Ice Makers in Germany, said handmade sorbet or yogurt ice in fruit flavors sells best when temperatures get hot.

"People eat more frozen products when the sun is shining," she told Detusche Welle. We suffered losses in March, April and May - now we're catching up."
'Bottleneck' in water delivery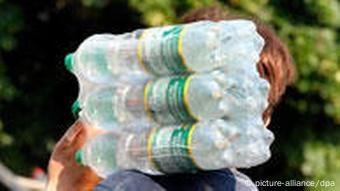 Delivering enough mineral water has proven to be a challenge
When temperatures get really hot, people tend to trade their ice cream cones for something cold to drink with mineral water often being the first choice. Germany's mineral water wells usually fill about 600,000 bottles each day, but recently they've upped daily production to some 1.8 million bottles.

Getting all those bottles to consumers is proving to be problematic. Transportation capacities were scaled back to cope with the recession, according to Wolfgang Stubbe, of the Bonn-based Association of German Mineral Sources.

"Going from 0 to 100 is difficult," he told Deutsche Welle, adding that mineral water is a year-round business in Germany. "We expect to see - and are also hoping - that in these next weeks sales will exceed those from the previous year."

Making up for slow spring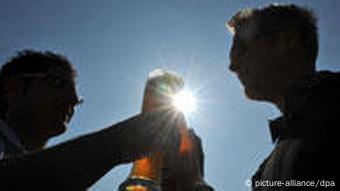 Breweries reported double-digit increases in demand once the weather got hot
Germany's hallmark beverage, beer, is also enjoying a boost through summer sales. So much, in fact, that some breweries have run out of bottles to fill and are insisting customers drop off the as many empty bottles as they buy of full ones.

Although German beer consumption has been on a steady downward trajectory due to an aging population and changing attitudes towards alcohol, Peter Hahn, of the German Brewers Coalition, said he hopes the hot summer will stymie the 1 percentto 2 percent annual drop in domestic beer consumption.

"We're happy about this long-term good weather and hope we can minimize the predictions of less consumption and just end the year with a slight minus," he told Deutsche Welle.

German brewers also experienced sluggish sales during the first five months of the year, he added.

"The May Day holiday was a total flop," Hahn said. "Outdoor gastronomy, beer gardens, grilling with friends - none of that really took place. But it all turned around in June. We started hearing from breweries they were seeing double-digit increases."

Author: Gerhard Schneibel (AP)
Editor: Sean Sinico