Beneath a gray January sky, a handful of men gathered in front of the towering Cologne Cathedral carrying placards and waving German and Syrian flags. Then, as curious bystanders began to trickle over, the men unfurled a banner with a message scrawled in black and green.
"We're refugees from Syria," it read in German. "We're against racism, sexism and war."
It marked the beginning of the first of two demonstrations on Saturday meant to counter the increasingly negative image of refugees in the wake of the events in Cologne on New Year's Eve.
Since that night, in which more than 500 women reported being sexually harassed in front of the main train station by a mob of men, most of them from migrant backgrounds, male refugees from the Middle East feel they're suddenly the enemy in a country that only a short while ago had celebrated their arrival.
Jabbar Abdullah, a 28-year-old Syrian who organized the first, smaller demonstration, said he wanted to convey to the public that there was a distinction between the men who committed those crimes and ordinary refugees.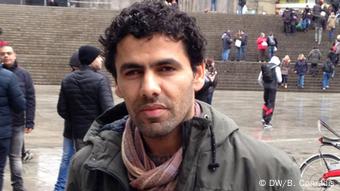 Abdullah says he wants people to know not all refugees are attackers
"Everybody in the media has reported that it was the refugees who did these things to the women," he told DW. "So then this means that all of the refugees are seen as guilty."
'Nothing to do with Islam'
In Syria, Abdullah studied archeology. But as the war raged on he decided to move to Germany, where he's been living happily for 17 months. Today, his hometown of Raqqa is the main stronghold of the "Islamic State."
Now working at the Romano-Germanic Museum in Cologne, Abdullah said he was sad to hear about what happened to those women on New Year's Eve. He was also quick to refute the idea that those crimes were a reflection of a cultural divide between Muslim refugees and secular Europeans.
"This has nothing to do with Islam," he said. "I'm not religious, but I come from a Muslim culture. All of these things are forbidden."
Oula Suliman, 21, a Syrian from Damascus who has been living in Germany for only two weeks, also emphasized that the events on New Year's Eve weren't a reflection of her culture.
"In Syria that has never happened to me," she told DW, referring to the sexual assaults. She said that if a man attacked her on the streets of Damascus, other men would be quick to protect her.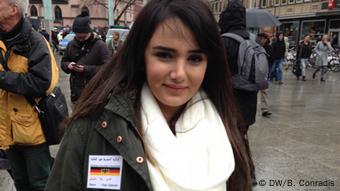 Suliman says what happened in Cologne on New Year's Eve is not a reflection of her culture
She said most Syrians love Germans, and emphasized her gratitude for Chancellor Angela Merkel's open refugee policies. "I think the German government today is doing something for humanity," she said.
Suliman, who left her medical studies in Syria to start afresh at the University of Duisburg-Essen, blames the media for the negative perception of refugees - and of Syrians in general.
"I think the world sees us from small screens. They don't see our reality," she said. "I don't blame people for thinking that we are bad, but I think we should work to change it."
Growing fear
The evening wore on, and a second, larger demonstration began. Dozens of men and women, mostly of migrant backgrounds, circled a makeshift stage holding signs expressing gratitude toward the German government. People delivered short speeches in English, German and French, reiterating the point that violence against women is a problem that plagues all cultures.
"I am looking at all of you as a human being," one Syrian man said into the microphone in English. "Me as a Syrian. Me as a human being. I'm not afraid to say it loudly: Those criminals should be punished harshly by the German law."
Tanja Wiesenhof, a woman from Cologne who studies social work, said the media coverage of the Cologne attacks angered her because it obscured the fact that violence against women is a part of German culture as well.
"I've never seen German men organize such an event," she said, looking around at the crowd. "Thanks to the refugees, we have this culture now."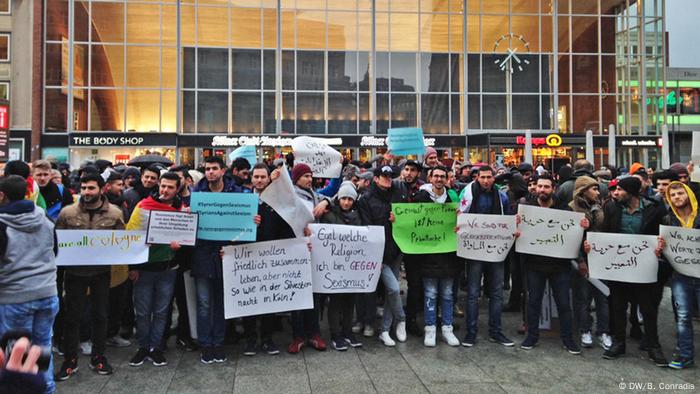 Dozens of people held signs expressing gratitude toward Germany
Jabar Abdullah, the archeology student from Raqqa, hopes more Germans will be similarly grateful following Saturday's events. He said that since New Year's Eve he's felt a little more afraid, especially with the rise of anti-migrant rhetoric from the far right.
He said he's also disappointed that Angela Merkel's government is now contemplating speeding up the process of deporting refugees from Germany. In essence, he said, that decision concedes that all refugees are guilty for what happened in Cologne.
"My great hope is that Germans and the rest of the world understand that not all refugees are criminals," he said.