On Monday, Foreign Minister Mevlut Cavusoglu (right in photo) said Turkey would continue to block a delegation of German lawmakers from visiting troops stationed at the strategic Incirlik air base.
"At the moment, a visit to the NATO base in Konya is possible, not Incirlik," Cavusoglu said at a joint press conference in Ankara on Monday with German Foreign Minister Sigmar Gabriel (left in photo).
In Berlin on Monday, Defense Minister Ursula von der Leyen said the troops at Incirlik would be moved to a base in Jordan. "It is unacceptable that our deputies cannot visit the troops," she said. "We are ready for a transfer," she said, adding that a "comparable alternative" had been identified at the Azraq air base in Jordan and that King Abdullah supported the move.
Germany's cabinet is to "discuss and decide" an eventual move on Wednesday, von der Leyen added.
"We'll now discuss and decide upon our future approach on Wednesday together in the cabinet," von der Leyen said. "Incirlik is a good air base for the fight against Islamic State, but we can't accept not being able to visit our soldiers."
Germany has more than 250 military personnel stationed at Incirlik. They fly Tornado surveillance missions over Syria and refueling flights for partner nations in the coalition against the so-called "Islamic State" (IS).
Visit blocked
Last month, Ankara blocked the delegation from making the visit, marking the second time that Turkey had done so. Turkish officials said their decision was a response to Germany granting asylum to Turkish military personnel accused of participating in a failed coup last year.
"If Germany takes one step forward toward us, we will always take two steps further," Cavusoglu said. "We would not like to see members of FETO (Fethullah Terror Organization) take shelter in friendly country Germany."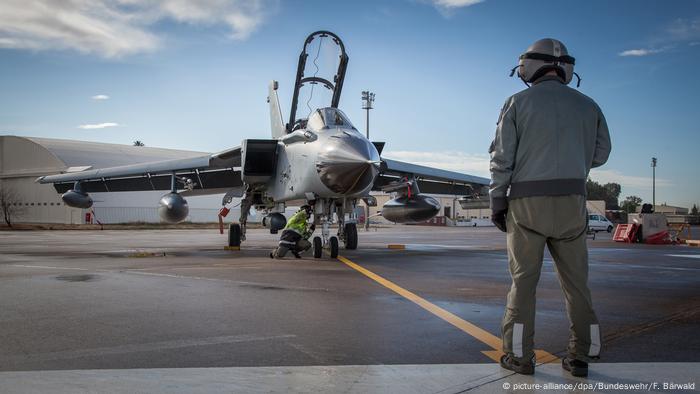 'Transfer German soldiers'
Germany's foreign minister said the decision effectively meant that Berlin would have to withdraw the Bundeswehr from the airbase.
"Turkey has made clear that, for domestic reasons, it cannot approve visits of all lawmakers," Gabriel said.
"I regret that, but Turkey must understand that, for domestic political reasons, we must transfer German soldiers out of Incirlik," Gabriel added. "In this situation, the Bundestag will ask the government to find another location for the German soldiers in Incirlik," he said.
Short-term setback
Analysts have warned of the possible impact that the withdrawal could have on the upcoming operation to recapture the de facto capital of IS: Raqqa in Syria.
But Major Rayk Hähnlein, defense expert at the Berlin-based German Institute for International and Security Affairs, told DW last month that, though a withdrawal would have a short-term impact on the mission, it wouldn't undermine the entire operation.
"If prepared well and with full support from Jordan and US partners on the Jordanian base, Germany's absence would only be felt for several days or a week," Hähnlein said.
ls/jm (dpa, AFP, Reuters)