A growing scandal involving organized crime, child prostitution and illegal real estate deals has taken its first government victim in the eastern German state of Saxony.
More and more reports are coming out almost on a daily basis about high-ranking Saxon justice and police officials in Leipzig having teamed up with organized crime rings. Child prostitution, large-scale bribery and massive interference in court trials are just some of the things that Saxon state officials are being accused of.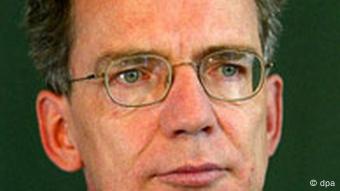 Thomas de Maiziere
As details on the scandal have emerged, calls for a public accounting have increased. Finally, late Tuesday, Saxony's interior minister ousted Rainer Stock, the head of the state's domestic intelligence agency, the Office for the Protection of the Constitution.
Merkel aide implicated
The scandal has tentacles that reach into federal politics, if indirectly. Thomas de Maiziere, Angela Merkel's chief of staff and coordinator of German intelligence services, was a top official in the Saxon government during the period of time covered by the scandal.
De Maiziere is accused of having withheld important information about the corruption affair from state authorities during his tenure as Saxony's interior minister, from 2004-2005.
Despite the fact that a lawyer in Saxony has brought a charge against de Maiziere accusing him of failing to initiate investigations despite his early knowledge of corruption cases, the government official argues that the facts known to him then were too flimsy to take action right away.
De Maiziere 'relaxed'
But de Maiziere claimed he is "very relaxed" about the affair.
"Much more is now obviously known about corruption cases back then," he told reporters. "But I'm not in the picture of what's been found out on the ground. And I don't need to be in the picture, because I'm no longer interior minister in Saxony."
The prosecutor's office in Dresden, which has been charged with investigating the growing scandal, has asked intelligence services to provide all documents pertaining to the affair by July 1.
De Maiziere's successor in Dresden, Geert Mackenroth, tried hard to play things down, despite being forced to take action.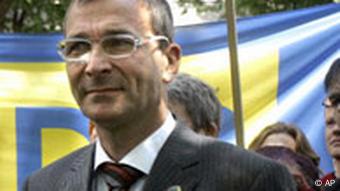 Volker Beck has 'serious doubts' about de Maiziere
"I hasten to add that I'm not yet in a position to say anything about how justified these accusations are and who really departed from the straight and narrow," Mackenroth said.
Secret files, illegal data
According to press reports, however, the domestic intelligence agency has secret files that contain information showing ties between organized crime, the justice department, politicians and police in Saxony. The now-deposed Stock had been under pressure about some of the files, which were compiled using partly illegal means between 2003 and 2006.
Meanwhile, the opposition has leapt on the scandal and has called for de Maiziere, who is in Angela Merkel's CDU party, to step down until the matter is cleared up.
"De Maiziere should leave his post as the intelligence coordinator for the German government until the investigating committee in Saxony has put forth its final report," Jan Mücke, a leading parliamentarian for the opposition free-market liberal Free Democratic Party (FDP) told the Berliner Zeitung newspaper on Tuesday.
Green Party parliamentarian Hans-Christian Ströbele called for de Maiziere to explain himself. Another Green parliamentarian, Volker Beck, told online news source Netzeitung.de that de had "serious doubts" that de Maiziere "is the right man to stay in the job of coordinating federal intelligence agencies."
Corruption: not a recent phenomenon
Jürgen Roth, an investigative journalist and author who has followed the Saxon dealings while doing research for a book on corruption, said: "We're talking about criminal networks in a number of Saxon towns, with Leipzig only being the tip of the iceberg.
"There's been large-scale collaboration between high-profile justice officials, former STASI secret police officers and organized crime cells," Roth said. "This is not a recent phenomenon. On the contrary, such structures have been in place in Saxony since the early 1990s -- that is since right after German unification."