Hinz, a member of the Social Democrats (SPD), said on Wednesday she was resigning from her seat in the Bundestag after admitting she had made up significant parts of her CV.
German publications "Westdeutsche Allgemeine Zeitung" (WAZ) and the "Neue Ruhr Zeitung" (NRZ) reported late on Tuesday that contrary to what her CV said, Hinz had never acquired a higher education entrance qualification nor completed university studies in law. The lawyer for the Essen politician also confirmed that Hinz had never taken any legal exams.
In a statement published on the politician's website, the 54-year-old's attorney said that "in retrospect, Ms Hinz is unable to discern which reasons which compelled her at the time to lay the foundations for further inaccurate claims about her legal education and activities with the false indication about her high-school diploma."
Hinz, who has been a member of the Bundestag - Germany's lower parliament - since 2005, asked in the statement for the forgiveness of "all the people who have trusted her, and also the general public."
The findings came just a day after Hinz announced that she wouldn't be standing for re-election in the Bundestag next year. Amid reports of "mind-boggling shenanigans" and "personal humiliations," the MP said "the slanderous defamation of a Social Democrat lawmaker" was the reason behind her decision.
It was not immediately clear what consequences would be imposed by the SPD.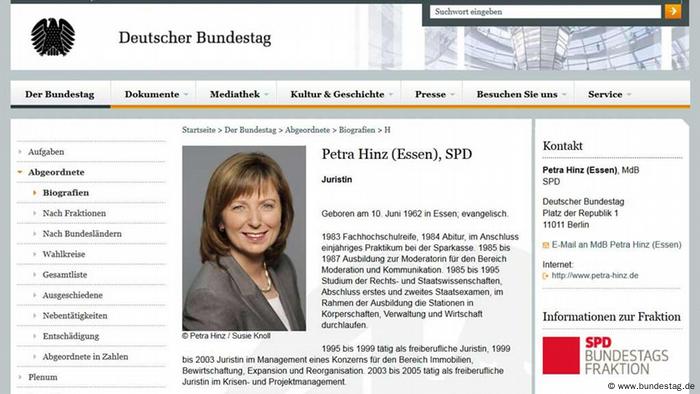 Tuesday's revelations were not the first time that a German politician has been questioned over the content of their CV. In October last year, German newspaper "Welt am Sonntag" reported that a representative of Stanford University in California accused German Defense Minister and Christian Democrat (CDU) Ursula von der Leyen of wrongly including the university's name on her CV.
Stanford University quickly dismissed the article, however, calling the media reports "exaggerated and wrong."
Earlier this year, an inquiry found that von der Leyen plagiarized parts of her doctoral dissertation. Hannover Medical School said the defense minister could retain her PhD as "only 20 percent" of her work was flawed - the majority of which didn't amount to a serious violation.