On Saturday, Germany recorded the warmest day in the year with temperatures over 38 degrees Celsius (102 degrees Fahrenheit) in some places including the capital Berlin. And authorities say there's no cool-down in sight for the rest of the weekend.
The high temperatures on Sunday forced Germany's rail operator Deutsche Bahn to evacuate three high-speed trains whose air conditioning systems had broken down, the company said.
News agency DAPD quoted Hans-Dieter Muehlenberg, chief of a local rescue squad, as saying temperatures inside the trains had reached 50 degrees Celsius (122 degrees Fahrenheit) and that nine people were hospitalized.
According to the German Meteorological service (DWD), the soaring temperatures are set to continue into next week, cooling briefly on Tuesday, before getting hotter again. However, the record summer temperatures of 2003, where a 40.4 degrees Celsius was registered in Roth near Nuremberg haven't yet been reached this time round.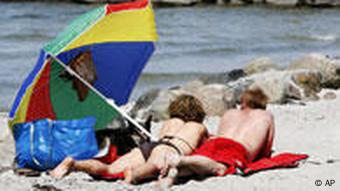 Many Germans are heading to the coast to escape the hot weather
To escape the heat, Germans are heading to the coast for the summer holidays. On the popular North Sea island of Helgoland, the temperature was a comfortable 20.5 degrees on Saturday, with a light sea breeze.
Britain warns of health risks
Britain too has been hit hard by the heat. The country recorded its highest temperature of the year, 31.7 degrees, in Gravesend in southeast England on Friday.
The British Health Protection Agency (HPA) said the daytime heat and the fact that temperatures remained high at night - around 20 degrees - posed health risks to the elderly and to very young children.
The agency also said there had been "several hundred" more deaths than normal over the past two weeks and some appeared to be linked to the heat.
"Although these are very preliminary data, their experts suggest that the hot weather may have been the cause for some of the increase," an HPA spokesman said.
Spain, Belgium bake under hot weather
In Spain, officials said three people had died as a result of the hot weather, including an 80-year-old man. The national meteorological agency, Aemet, warned of exceptionally warm weather in seven regions of central and southern Spain at the weekend, with temperatures expected to reach 39 degrees in some areas.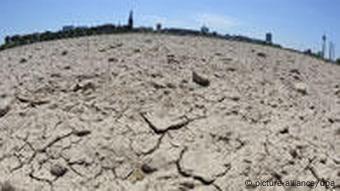 The River Rhine is showing the effects of the heat
France and Belgium have also seen record temperatures over the past week. The French weather service is predicting that the heat will ease up on Sunday and Monday, as thunderstorms break out. In Belgium, there were worries over water shortages as a result of the hot weather and lack of rain.
Bullange in eastern Belgium has warned that several water sources have dried up. The Belgian interior ministry said that three other communes in the southeast of the country have also appealed for emergency water supplies.
Authors: Joanna Impey, Andrew Bowen (AFP/AP/dpa)
Editor: Andreas Illmer