DuMont's company, the family-controlled M. DuMont Schauberg, announced on Sunday that it was acquiring a 25 percent share of Haaretz in an investment worth 25 million euros ($32 million).
The Cologne-based company, which owns such papers as Express and the Kölner Stadt-Anzeiger, said that it is seeking "a longstanding business relationship" with the Haaretz Group. In addition to Israel's third-biggest daily in circulation terms, the group also includes 15 local weekly papers and a printing works.
DuMont Schauberg recently began an expansion course, acquiring a majority stake in the left-of-center German national paper, the Frankfurter Rundschau. The Haaretz deal is the company's first investment abroad.
Haaretz described the alliance with the German publishing group as one based on "shared values," adding that DuMont Schauberg was a "partner that has a thorough understanding of the public responsibility of this business."
Groundbreaking deal
The deal is groundbreaking, according to analysts, who said that any German ownership of such an influential Israeli enterprise would have caused an outcry in Israel not too long ago.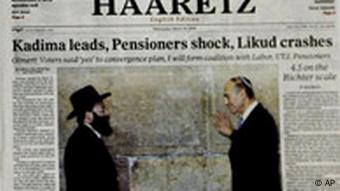 The Haaretz Group publishes Israel's third-largest daily, which also has an English edition
Haaretz, which had been wholly owned by the Schocken family for 71 years, decided to raise capital after realizing that the group had development potential but lacked the financing to pursue new opportunities.
According to a report on the deal in the English-language edition of Haaretz, the group said that the deal with a German partner was done in full recognition of the painful past of the Jewish people in Germany, but also with the recognition that Germany has become one of Israel's closest allies and economic partners.
The deal was helped along by the former Israeli ambassador to Germany, Avi Primor, who made the introduction between the two companies, and who will also join the Haaretz board of directors on behalf of the new shareholder.
DuMont's supervisory board chairman, Alfred Neven DuMont, has longstanding personal ties to Israel. He has regularly visited the country since the 1950s, is a supporter of the university in Tel Aviv, and also heads the German committee of the Peres Center for Peace.