President Christian Wulff faced increasingly ferocious criticism on Sunday after he admitted to having failed to disclose a private home loan he received while serving as the state premier of the northern German state of Lower Saxony.
Thomas Oppermann, the parliamentary head of the opposition center-left Social Democratic Party (SPD), told Germany's Bild am Sonntag newspaper that in order to "restore his credibility" Wulff must fully explain the 2008 loan he received from the wife of wealthy German businessman Egon Geerkens.
SPD Secretary General Andrea Nahles went so far as to indirectly call for the president to step down. In an interview with German public television she said Wulff must offer a quick and clear explanation. "If he can't do that, he must reconsider whether he can continue to set and example for Germany," she said.
The Free Democratic Party MP Erwin Lotter was more explicit in his demands. "The immediate resignation is a requirement of integrity and responsibility," he told German news agency dpa.
But speaking to regional public television on Saturday night, Wulff denied that the recent scandal was grounds for his resignation.
"You have to be responsible for your own actions and I can do that," he said. What was important in his position as president, he said, was "that you can assess a situation, act accordingly and then stick to what you've done."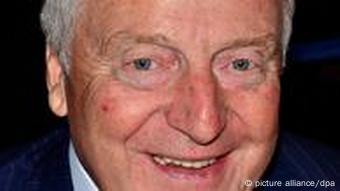 Egon Geerkens may have been responsible for the loan
He added that it was crucial to kow "when something is real and when something is a lot of hot air," he added.
Inconsistencies remain
Wulff has admitted to receiving a 500,000 euro ($665,000) loan from Edith Geerkens to buy a house in 2008. Under questioning by members of the opposition Green Party in 2010, however, Wulff denied having a business relationship with Egon Geerkens. Opposition figures now argue that that was misleading.
In a statement released on Thursday, Wulff admitted he may have given the "wrong impression" about his financial ties with Egon Geerkens and his wife.
"It would have been better if I had mentioned a private contract I had with Mrs.Geerkens during questioning by members of the Lower Saxony parliament," Wulff said. "I had and have nothing to hide in this matter," he added.
According to German news magazine Der Spiegel, however, discrepancies remain over Wulff's recent account of the loan. The magazine reported that it may have been Geerken who was responsible for the loan rather than his wife after the businessman told the magazine that it was he who had directed negotiations.
The payment of the loan was conducted via Edith Geerken's bank account, according to Wulff, yet Egon Geerkens is believed to have had power of attorney over the account.
Wulff, who was appointed German president in 2010, has since returned the money to the couple and taken a private bank loan.
Author: Charlotte Chelsom-Pill (AFP, dpa)
Editor: Nicole Goebel