The quartet's win as the only male and only non-American nominees in their category came as a surprise to the young musicians.
"I can't describe in any words what we're feeling right now," singer Bill Kaulitz said, thanking the band's fans worldwide.
Since Tokio Hotel was formed in Magdeburg in 2001, the quartet of Bill and Tom Kaulitz, Georg Listing and Gustav Schaefer have enjoyed much success in their native Germany, wirth four number one singles and two chart-topping albums, selling nearly five million CDs and DVDs.
Tokio Hotel released their first album "Schrei" (Scream) in May 2006 and sold some 600,000 copies in six days in Germany. It also quickly became a major success in France, Austria and Switzerland.
Persistent pop disaster doll Britney Spears stole the MTV show, however, winning awards in all three categories she was nominated in: video of the year, best pop video and best female video. The row of awards marked a comeback after her disastrous performance at last year's VMAs.
Ever growing international success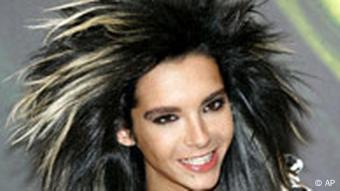 Despite the band's popularity, their hair has had mixed reviews
After starting to sing more in English, Tokio Hotel's international popularity has been growing rapidly with large fan bases in other European countries, particularly in France and Belgium.
The award marks the band's growing success in North America, reaching 39 in the official US billboard charts and climbing as high as sixth place in the Canadian charts. That makes Tokio Hotel one of the few German bands to enjoy such international success.
Tokio Hotel is well known for what some describe as shrewd marketing tactics -- playing on the singer's androgynous look, the band members' young ages and edgy hairstyles to reach icon status among many teenage girls.
As well as singing more in English, the band has recently adopted a more serious "emo" image, which is reflected in their now award-winning video depicting a mass of soulless people marching in uniforms -- apparently the victims of a dystopic regime.
The VMA award is already being seen as a potential breakthrough for the band to further success in America. Speaking ahead of the ceremony, Bill Kaulitz said: "We don't expect it, so for us, it's so cool to be nominated. I think it's really, really special for us -- it's America and it's our first American award and that's so huge."
The youngsters showed they are getting used to the international pop-star lifestyle when they turned up for the awards on a monster truck, though they were upstaged by rapper T-Pain who arrived on elephant accompanied by various circus performers.