The German parliament, or Bundestag, on Friday passed a set of reforms of domestic intelligence services aimed at avoiding a repeat of failures committed during an investigation of a series of murders alleged to have been carried out by the right-wing terror group National Socialist Underground (NSU).
The new law enhances the powers of the Federal Office for the Protection of the Constitution - Germany's national domestic security agency - by giving it an increased role in coordinating intelligence agencies in the various states and authority to intervene at a state level if necessary.
The reform also for the first time regulates the use of paid informants, known as "V-Leute," employed by the intelligence services to provide inside knowledge about groups and milieus considered to be a potential threat to internal security.
Informants with significant criminal records will now only be allowed to be deployed when absolutely necessary to ward off a grave threat, while serious criminals will no longer be permitted to work in such a capacity at all.
In addition, informants will be allowed to behave in ways appropriate to the respective milieu, for example by using the "Hitler salute" or wearing disguise. However, they will not be permitted to cause injury to people or property.
Informants 'necessary'
German Interior Minister Thomas de Maiziere said the new law drew consequences from the "collective failure of security authorities" during the investigation into the murders of nine men of Turkish and Greek descent and a policewoman between 2000 and 2007, alleged to be the work of the NSU.
Responding to vehement criticism from opposition Left and Green parties, de Maiziere, who belongs to Chancellor Angela Merkel's Christian Democrats, also defended the use of paid informants, saying it was necessary to counter many threats.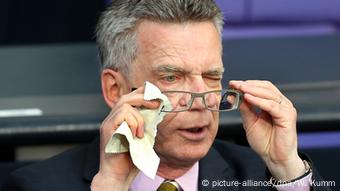 De Maiziere insists that informants are essential
A parliamentary investigative committee into the affair attributed many of the mistakes made in the investigation to a lack of coordination between German security agencies. The reliabilty of informants was also called into question, and there were allegations that money paid to informants had been used to finance extremist groups, including one that gave rise to the NSU.
Inherent racism?
The fact that German authorities initially pursued the line that the murders had an ethnic background to the virtual exclusion of all other explanations has also led to accusations of there being systemic racism within the country's police and intelligence bodies.
A leading member of the NSU, Beate Zschäpe, remains on trial in Munich, facing 27 charges linked to the 10 murders and two bombings allegedly carried out by the group.
Two other NSU members, Uwe Böhnhardt and Uwe Mundlos, apparently committed suicide in 2011 after botching a bank robbery. The finding of their bodies in a mobile home four years ago finally led police onto the trail of the right-wing group.
tj/kms (dpa, Reuters, AFP)