German officials began legal proceedings Wednesday against the popular social networking site Facebook for storing the names and e-mails of people who aren't even members of the social media site.
"We consider the storage of data by third parties in this context for data protection unacceptable," the head of Hamburg's office for data protection, Johannes Caspar, wrote in a statement on his office's website. "Although there are also other social networks that have such friend-finding functions, they do not allow the permanent storage of other people's data."
In an interview with the Associated Press, Caspar added that his office had received complaints from many German citizens who had been contacted by Facebook after the California company had acquired their names and email addresses through other Facebook users who had listed them as a contact.
"Given that several million people in Germany alone are members, this is a very unsettling notion," he said, according to the news agency.
The Silicon Valley giant has been given until August 11, 2010 to respond to the charges.
Facebook, like Google, has had a rocky relationship with Germany's privacy laws in recent months. Germany's consumer protection minister, Ilse Aigner, said last month that she was going to give up her Facebook account, alleging that the social media site was not doing enough to protect its users' data.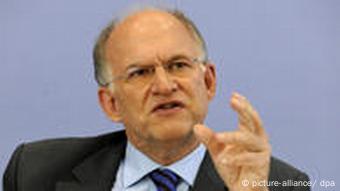 Peter Schaar wants an app tracking private information to be developed
A new approach to data protection
But rather than just complain about data privacy violations, another German official may have come up with one possible solution to monitor future violations.
Peter Schaar, head of Germany's Data Protection and Freedom of Information Commission, wants smartphone producers to create an app which lets users keep track of the data collected about them while they use their phones.
This would increase consumer's awareness of their data protection rights, according to Schaar. An app is a small program offered for little or no money.
"It would actually be a great thing. In the end what I would like to do is stimulate developers' fantasy," Schaar said Tuesday in Berlin. He added he isn't surprised smartphone producers have yet to create such an app, because it would lead to a moment of realization for many users.
Data intensive
Many smartphones are capable of recognizing users' physical location, recognizing their faces in pictures and connecting to online social networking sites. How to secure users' private sphere is an ongoing source of debate in Germany.
According to Oliver Huq, an editor at MacUp magazine, creating the app described by Schaar would pose a legal challenge of its own. Any app designed to track personal data would need to access that data itself.
"It would only be able to collect data openly available in the Internet. As soon as an app goes into the Internet and searches based on a specific data set, then naturally that data set becomes vulnerable itself," he told Deutsche Welle, adding that data stored in company databases would be beyond the legal reach of the app envisioned by Schaar.
"The problem with such an app would be that its own purpose would be to collect personal data without prompting the user and without the user necessarily knowing what is happening," he said.

Author: Gerhard Schneibel
Editor: Cyrus Farivar