While foreign books enjoy a good reputation in Germany, the same cannot be said of German literature abroad. A recent study on translation and publishing licenses compiled by the Association of German Publishers and Booksellers shows that on the whole contemporary German fiction is not fairing too well outside the country. The ratio of imported and exported books is 3 to 1, meaning fewer foreign audiences read German authors than vice versa.
However, as experts point out, the German book trade has experienced major changes in the last several years.
Emerging Asia market
Since 1998, China has been consecutively among the biggest markets for German publishing licenses. In 2003, the country purchased 660 licenses for literary works, considerably more than any other country.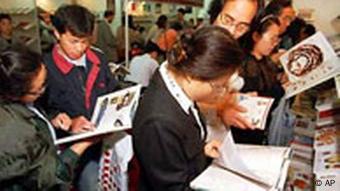 The Chinese market is the largest for German translations.
Dr. Singh Bartz, director of the German Book Information Center in Beijing, attributes the growing interest in German literature to scholars who returned back home from their studies in Germany and worked as editors. As in South Korea, which acquired 616 publishing licenses in 2002 and has seen an increase in the number of academics studying in Germany, there is a direct correlation between an audience's foreign language skills and interest in a publishing that country's literature.
No fancy for fiction
Although many of the editors in Asia may have studied in Germany, there is little interest in high-brow contemporary fiction. Non-fiction translations of philosophy, psychology and science works were more popular than the new works by hard-hitting authors like Christa Wolf or Martin Walser.
Even more successful, though, are books for children and juveniles, for which China bought 178 translation licenses. "The close collaboration between Chinese and German publishers during the printing process and the merchandizing of related products have contributed hugely to the success of German children and juvenile books in China," explained Batz. Moreover, he said "German children and juvenile literature is considered entertaining, inspiring and fits well with the Chinese illustrative and educational approach, as opposed to contemporary literature which still suffers under the reputation of being too dry and analytical."
Too boring?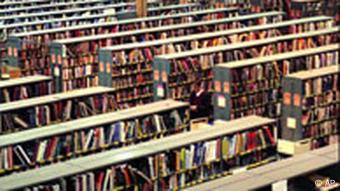 "The Earth's biggest bookstore" is in Seattle, where Amazon.com has its warehouse.
That reputation applies to other foreign markets as well. In the United Sates, which together with the rest of the English-speaking publishing world accounts for only a small segment of German foreign licensing -- in 2004 English ranked sixth behind Polish, Spanish and Czech markets for purchase of translation rights -- works of contemporary German authors have a difficult time finding fans.
Ricky Stock, head of the German Book Office in New York, a non-profit organization that serves as a bridge between the German and American publishing industries, confirmed that there is hardly any demand for German fiction in the US.
"The American market is immensely competitive and American editors are hard to convince of giving German contemporary authors a chance," she said.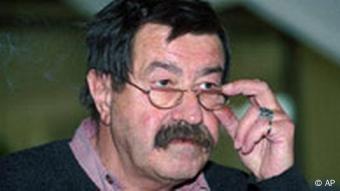 Nobel prize winner Günter Grass in Germany's best known contemporary fiction writer.
Dr. Anne-Bitt Gericke, head of Litrix.de, an online translation service, agreed. "We are trying our best to get US-Americans interested in German literature. The US market definitely sets the tone and is therefore an important one. Americans are still conspicuously reserved towards German fiction, often considering it too profound and too German-orientated," she said.
Language barrier
When it comes to the procurement of license contracts, however, reputation is not the biggest stumbling block. More often than not, it's the lack of language familiarity.
"A huge problem is that most of the American editors don't speak German and rely on sample translations which have to be provided first," Stock explained, while adding that funding for translations is often hard to find.
Organizations such as the German Book Office in New York and litrix.de, which works in association with the Goethe Institute, focus on promoting and disseminating German literature abroad, especially fiction, by funding translation projects.
"We organize various book readings, meetings with foreign publishers, fund translation programs and work closely with the Frankfurt book fair," said Clemens Peter Haase, director for literature and translation at the Geothe Institute, one of the country's largest government funded cultural organizations.
Despite the low level of acceptance in one of the world's largest publishing markets, German contemporary authors should not despair: "Next year, German titles will experience an unprecedented boost in the US," promised Stock. Whether that forecast will translate into action remains to be seen.