On Monday, the Foreign Ministry announced that Germany would allocate about 120 million euros ($140 million) to improving the conditions of the estimated 400,000 to 700,000 people currently stranded in Libya and facing enslavement, official violence and hunger, which the UN has called a result of EU border policy. Calling the situation "dramatic," Foreign Minister Sigmar Gabriel said the funds would help stabilize Libya's government.
Read more: The Migration Dilemma: 'We were treated like animals'
The majority of people who make the deadly Mediterranean crossing from North Africa to Europe travel via Libya, where the internationally recognized government has lost control of vast expanses of the country and gangs who exploit migrants flourish. Gabriel said giving money to the government, which has been accused by migrants, displaced people and advocacy groups of corruption and maltreatment, was the only way to "effectively combat" smuggling and trafficking within and via the country. "How Libya develops and what is currently happening there also affect us in Europe and Germany," he added.
About 137,000 people have reached Italy and Spain from North Africa this year, with the bulk of them passing through Libya, the UN's refugee agency reports. Nearly 3,100 died in their attempts this year as of November — a significant drop from 2016, when just under 4,800 were killed over the course of the year.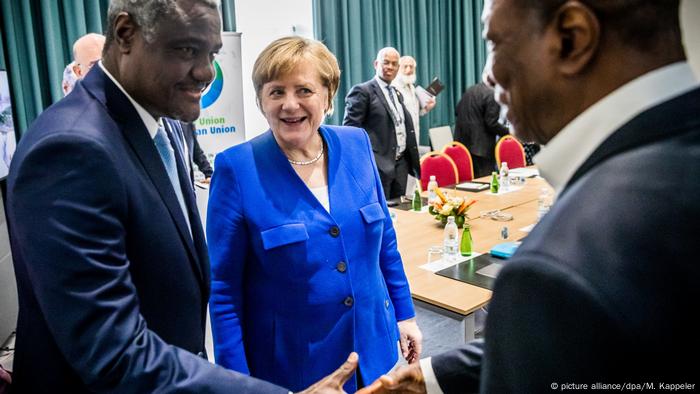 European and African leaders hailed their summit as a success
At a summit held last week, leaders from the European and African unions vowed to work together to help evacuate 3,800 migrants after being confronted by footage of people being auctioned off as slaves in Libya, the EU's key partner in its effort to close the Mediterranean Sea to refugees and migrants using smugglers' boats. Such reports aired in mid-November by the US-based news broadcaster CNN. Rights groups also report that Libya's security forces have raped people who have been placed in their custody following unsuccessful attempts to seek more sustainable living conditions in EU nations.
The Foreign Ministry also announced that it would allocate €28 million to the efforts of the Red Cross and the World Food Programme in the Central African Republic and Congo. "We cannot lose sight of the dramatic situation of millions of people in Africa who are at this moment affected by crisis and conflict," a statement from the ministry read. Close to 3 million people are displaced within the Democratic Republic of the Congo alone, and 600,000 have fled to neighboring countries.
mkg/se (AFP, KNA, dpa)