Germany's doubts about Google's mapping service "Street View" have found a prominent voice in the current Foreign Minister Guido Westerwelle.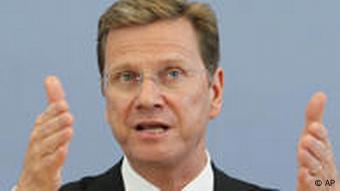 Westerwelle doesn't want his home to be shown on the program
Last week it was announced that despite privacy concerns, Street View would be available for Germany's 20 largest cities by the end of the year. However, in a unique measure tailor-made for Germany, people can opt to have their house or property made unrecognisable.
In an interview with the German newspaper Bild am Sonntag, Westerwelle, who is leader of the liberal Free Democrats (FDP), said he would be adding his name to this list.
"For me it's a question of principle," he said. "I will do all I can to prevent it."
52 percent oppose Street View
Westerwelle reportedly wants to use the Google row to revive the traditional issue of civil rights within his party.
"The sensibility for the topic of protecting privacy is set to significantly rise in Germany," Westerwelle said. "The modern networked world and the private sphere which is worthy of protection should not be allowed to become enemies."
Google's Street View, an online program allowing users to see panoramic, street-level images of cities around the world, has reignited a heated debate in Germany about online privacy.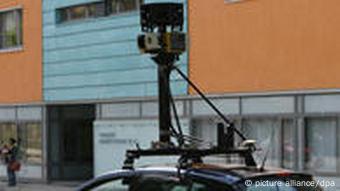 The Google cars have started photographing German cities
German Chancellor Angela Merkel's centre-right coalition has stepped up pressure on Google despite the company's insistence that it would allow anyone to opt out of having their home shown on the program.
So far tens of thousands of Germans have filed official objections to their homes and properties being included in the service. According to the Bild am Sonntag, over half of the German population aren't in favor of their houses appearing on the service.
In a survey appearing in the newspaper, 52 percent said they did not want the exterior of their house to appear online, whereas 47 percent said they did not mind.
Critics call for "better regulation"
The launch of Google Street View in Germany follows more than two years of negotiations and strong criticism from the government and citizens.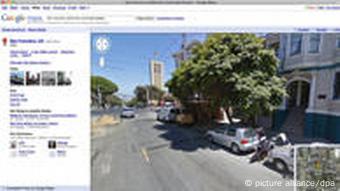 So far Street View is only available in certain counties
One of the sternest critics is Johannes Caspar, the Hamburg commissioner for data protection. Speaking to the Sueddeutsche Zeitung newspaper, Caspar said "the handling of this kind of data needs to be strongly regulated."
Although Google has promised to protect people's privacy, Caspar remained sceptical. He suggested reforming data protection laws so that strict penalties can be imposed on Google if it "does not respect its commitments."
Many in the German government have already called for the creation of a special privacy law that would curtail Google's Street View service.
But a spokeswoman for Google, Lena Wagner, said on Friday the company wasn't in favor.
"We would be concerned about the wide-reaching implications of such a law that would hugely restrict the development of basic innovative and consumer-friendly mapping servicves - not just for Google but for countless other companies," Wagner said.
Google has already started rolling out its Street View cars mounted with cameras to photograph the 20 cities that will appear online. Those who do not want their properties to appear online have until September 15 to object.
Author: Catherine Bolsover (dpa/apn)
Editor: Sonia Phalnikar