Finance Minister Wolfgang Schaeuble on Sunday fended off criticism of a German-French compromise on how to reform European Union sanctions on states with excessive deficits.
"The German government has made a large contribution to the strengthening of the Stability Pact, one that exceeded all expectations," he told the weekly Bild am Sonntag newspaper.
As Schaeuble's comments were published, EU foreign ministers met in Luxembourg on Sunday for preliminary discussions on the reform, which would require amending the 11-month old Lisbon Treaty.
Pact needs better enforcement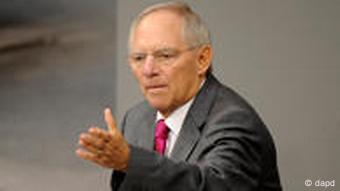 Schaeuble said the compromise was the best Germany could hope for
In the wake of major debt crises in Greece and other eurozone countries, EU states have sought to toughen the rules of the so-called "Stability and Growth Pact," which, among other things, requires eurozone states to maintain a budget deficit of no more than 3 percent of gross domestic product (GDP). The pact was criticized for having no proper enforcement mechanisms.
Germany had sought to impose tough, automatic sanctions on countries which exceed deficit limits, but France wanted more flexible rules.
A compromise between Chancellor Angela Merkel and French President Nicolas Sarkozy would impose semi-automatic sanctions that could only be overruled by a majority vote of EU member states.
'Stability sledgehammer' to 'harmless cotton swab'
After news of the compromise surfaced, politicians from within Merkel's own government parties denounced the compromise as a sell-out.
Christian Lindner, secretary general of Merkel's junior coalition partners the Free Democrats, told the daily Saarbruecker Zeitung on Saturday that the revised rules could be "too weak to guarantee a strong euro."
And Kurt Lauk, president of the economic council of Merkel's Christian Democratic Union, told German news agency dpa on Sunday that the compromise threatened to "turn the promised sledgehammer of stability into a harmless cotton swab."
But Schaeuble said Germany "never had a chance at getting automatic sanctions for deficit rulebreakers," and that the compromise between the EU's 27 member states was "more than many thought was achievable."
Author: Andrew Bowen (dpa, dapd, AFP)
Editor: Kyle James