The German electronic band Schiller, named after the German poet and dramatist Friedrich Schiller, is set to perform five concerts in Iran's capital, Tehran, starting Monday. They will be the first Western music pop concerts held in the country since the Islamic Revolution 39 years ago.
"I have a good feeling," the band's founding member Christopher von Deylan told Iranian press agency MNA upon arriving in the country. "We're excited to find out how people will react to our concerts. I've always been convinced that when you write a poem or a piece of music, you can bring it around the world and share it with everyone."
The two first concerts on Mondays and Tuesday at the Keshvar Big Hall are sold out, reported the Iranian music website Ritmeno, which is also the organizer of the event. There are only a few tickets left for the three other concerts, according to Ritmeno.
Read more: Schiller - The electro-wizard's new album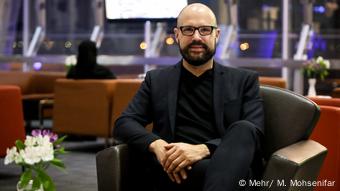 Christopher Deylen, shown here in Tehran, is the main member of Schiller; guest artists contribute to the project
Greeted with flowers
Schiller is one of the most popular European electronic bands in Iran. "I have always received positive feedback from Iranian fans," said von Deylen. "They have often asked me to perform in the country." The project has been planned over the last year. "I'm happy to have been invited," added the musician.
Iranian journalist Reza Khaasteh posted on Twitter a video of the band arriving in Tehran, showing how the musicians were greeted with flowers.
Two-hour concerts are planned for all five nights. Along with all their greatest hits, fans can expect an extra "surprise," revealed von Deylen.
Initially focusing on club and dance music, Schiller was formed in 1998 and has sold over 7 million albums worldwide.
Slowly opening to Western culture
Iran's clerics see Western music as part of a conspiracy leading to the "cultural invasion" of their Islamic country.
In 2008, Iranian music company TS had already attempted to organize a concert with Irish singer Chris de Burgh. The concert organizers had obtained a permit from the Ministry of Culture and de Burgh was already in Tehran by the time the country's ultra-conservative clerics vetoed the event, cancelling the gig at the last minute.
Under the country's moderate President Hassan Rouhani, who was reelected last May, Islam has played a less prominent role in politics, as well as in society and culture, which is why such a concert could be held for the first time in four decades.
eg/ (with dpa)