Germany's defense minister Ursula von der Leyen said Friday that her government planned to make the military one of the most sought after employers in the country. Von der Leyen was presenting a proposal for a more attractive Bundeswehr at the German parliament, the Bundestag.
"This isn't a sprint, rather, we have a marathon ahead of us," the minister said.
Von der Leyen, who belongs to the Christian Democratic Union (CDU), proposed more part-time work, better promotion opportunities and legally stipulated working hours - a first in the German military.
Revamping army 'a big challenge'
"We want the best, we need the best and therefore we need to create the best working conditions," Von der Leyen told fellow parliamentarians.
Around 60,000 applicants were needed every year for recruiters to choose those best suited for the Bundeswehr, the minister informed, adding that new applicants also included many women.
However, making the army more attractive was a "big challenge," Rainer Arnold, defense expert belonging to the Social Democratic Party (SPD), part of the ruling coalition, told the Bundestag. "The point was not to find enough candidates, but to find the right ones," he added.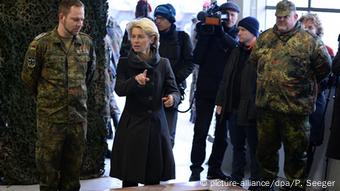 The German armed forces have been complaining of poor accommodation and substandard equipment
The German military union described the proposal as a "great success," although the head of the soldiers' union, Andre Wüstner demanded changes in extra allowances for skilled personnel and increments in pension plans for soldiers on time-bound contracts.
Criticism from opposition parties
The Greens expressed dissatisfaction with Von der Leyen's plan to modernize the army. Greens leader Doris Wagner referred to studies which showed that soldiers were happy with the amount of money they were making at work, but that part-time jobs would be difficult to implement.
"The complete orientation of the troops" was also a contributor in making the military unattractive, leftist Die Linke party leader Christine Buchholz said, adding that the "expansion of foreign deployments" were a big reason for people not wanting to sign up.
Germany's army made headlines earlier this week because of substandard equipment and dilapidated accommodation.A report published by the armed forces Ombudsman, Hellmut Koenigshaus, said that the armed forces were stretched to their limits.
mg/bw (AFP, dpa)