Plans to no longer serve children pork or gelatin-containing products like gummy bears at two day care centers in the eastern German city of Leipzig prompted a wave of criticism online and made headlines across the country on Tuesday.
The mass-circulation Bild newspaper first reported about the day care centers' proposal, saying the decision to make the changes came from consideration for two Muslim children.
"Out of respect for a changing world, only pork-free meals and snacks will be ordered and served starting from July 15," read a letter sent to parents, according to Bild.
Responses to the plans grew so heated that Leipzig police decided to park patrol cars outside both of the day care centers to protect against "possible dangers," a spokesman told news agency dpa.
By the evening, the director of the two centers said they were putting the plans on hold for now following the outrage.
"We're overwhelmed by the whole thing," day care center director Wolfgang Schäfer told dpa.
Read more: Germany: Muslim kindergarten loses appeal against closure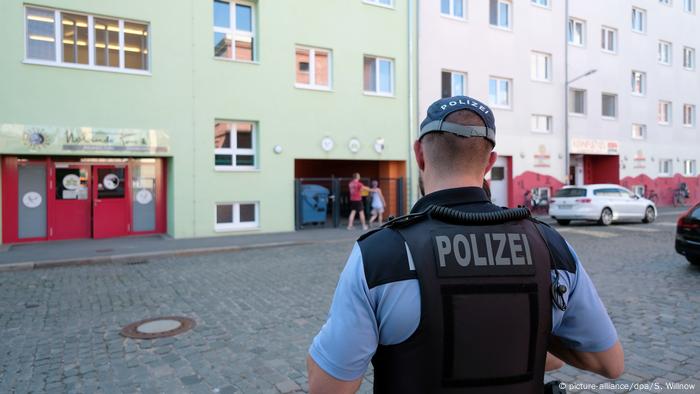 Police set up patrols outside the day cares due to safety concerns
'Pork' trending on Twitter
The Bild report spread like wildfire on social media, with #Schweinefleisch (pork) taking the number one trending spot on Twitter for most of the day.
The Saxony branch of German Chancellor Angela Merkel's Christian Democrats described the plans as a "ban on pork" and said it was unacceptable.
Beatrix von Storch, a parliamentarian with the far-right Alternative for Germany, described it as "cultural subjugation," honing in on reports that the day cares made the decision out of respect for Muslim children.
"Imagine if German children in Riyadh fought for their right to currywurst and forced the majority of society to change their diet," she said, referring to a popular variation of German sausage.
Sawsan Chebli, a German politician in Berlin for the center-left Social Democrats who is of Palestinian descent, said the measure may have been well-intentioned, but did little to include Muslims.
"If day cares, schools and other such institutions would rather serve vegetarian food instead of meat — fine with me. I am only against it whenever they say: it's out of respect to Muslims," she wrote on Twitter.
Parents say debate is 'absurd'
From schnitzel to sausages to gelatin-containing gummy bears, many classic German dishes contain parts taken from pigs.
In many day cares and schools, children who do not eat certain meats due to religious reasons, allergies or other dietary restrictions are often offered an alternative.
As for the parents of the children at the day care, several said they agreed with the day care's decision to forego pork.
One mother told dpa that the debate was "absurd" and that her 4-year-old daughter doesn't notice anyway if what she's eating has pork in it or not.
rs/se (dpa, epd)
Every day, DW's editors send out a selection of the day's hard news and quality feature journalism. Sign up for the newsletter here.