The Federal Constitutional Court in Karlsruhe denied the last-minute appeal and confirmed on Monday the earlier decision of the Administrative Court of Stuttgart, saying there were insufficient grounds to rule in favor of the 23-year-old man from the West African state of Togo.
The court rejected the man's application for asylum, which means he will be deported to Italy, his first port of arrival from Africa. Under EU rules, as he was first registered as an asylum applicant in Italy, he should be deported there from Germany.
The man's lawyer had filed a constitutional appeal in Karlsruhe against the deportation of his client and to obtain his release from detention. He had argued that the court in Stuttgart had already extended an expired time limit as the man had not been deported.
But the court stated: "The application for interim measures is rejected," saying the appeal was "inadmissible for lack of sufficient reasoning." The court stated that Italy has a well-planned asylum system and the man would not face inhuman or degrading conditions. He therefore should make his asylum application there. The Karlsruhe court's decision is final.
Large police operation needed to detain man
Earlier this month, on May 3, a major police operationwas carried out at the Ellwangen center, in the southern state of Baden-Württemberg, to arrest the man. Three days earlier, up to 200 residents of the facility were reported to have threatened and harrassed the police, preventing his arrest.
In some instances, the Federal Constitutional Court has stopped deportations at the last minute — but not in this case.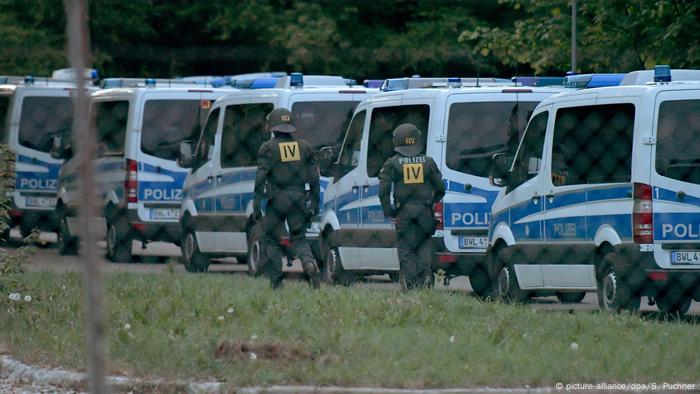 Police returned in force on May 3 to arrest the asylum seeker at Ellwangen
Authorities under pressure
There has been an increase in the calls from conservative and far-right, anti-immigrant politicians for failed asylum seekers to be deported and for applicants and refugees to be subjected to stricter conditions.
Interior Minister Horst Seehofer called the earlier failure by police to arrest the man in Ellwangen a "slap in the face for the law-abiding population," saying "The right to hospitality must not be trampled on."
Seehofer is head of the Christian Social Union (CSU), the Bavarian sister-party to Chancellor Angela Merkel's Christian Democratic Union (CDU), which faces the far-right, anti-immigrant Alternative for Germany (AfD) in Bavaria's state election in September. Seehofer has been a long-term critic of Merkel's refugee policy.
Seehofer plans to set up five or six large-scale facilities where asylum seekers will spend their entire time and where their applications will be processed in one place. During that time, which can be many months, the applicants are not allowed to look for work, or take German classes, or do any training.
jm/se (dpa, AFP)
Each evening at 1830 UTC, DW's editors send out a selection of the day's hard news and quality feature journalism. You can sign up to receive it directly here.