The Higher Regional Court in Munich (Oberlandesgericht München) ruled on Thursday that previous arbitration agreements between Claudia Pechstein and the International Skating Union (ISU) are invalid.
The five-time Olympic champion Pechstein, 42, is seeking 4.4 million euros (5.2 million dollars) in damages over being banned for two years in 2009 by the ISU over elevated blood levels in her biological passport, a ruling confirmed by the Court of Arbitration for Sport.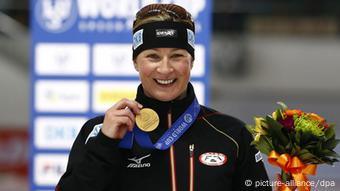 Still going strong: Pechstein won a gold medal at the ISU world championships last November
The Munich court on Thursday overturned this ruling, plus another from a district court in February 2014 which had dismissed the case.
"Five and a half years ago, very few people thought that I would go down this path," Pechstein said to Germany's Sky Sports News in front of the court, as she discussed seeking damages for her ban.
"My image really took a hit due to this ruling and there have been ups and downs for me as a person. But I'm happy to stand here now," she added.
The decision calls into question the entire system of sport jurisdiction as it means that athletes could have a choice in the future to pursue doping ban cases in front of a sports court or in front of a normal court.
Pechstein always protested her innocence, and doctors later diagnosed a genetic defect. But the ISU said this did not adequately explain the abnormal levels.
The ISU now has four weeks to lodge an appeal on Thursday's ruling before the Germany's Federal Court of Justice (BGH) makes a decision.
If the BGH follows today's decision, the case would be returned to the court in Munich, where a decision on damages will be made.
al/rd (dpa, SID)