During her short stay in Kyiv, the German chancellor said that Ukraine would likely sign a so-called Stabilization and Association Agreement (SAA) before the French EU presidency expires at the end of this year.
The deal is expected to top the agenda of an EU-Ukraine summit taking place in September.
While an SAA is an important step toward membership in the 27-member European Union, Merkel urged Ukrainians "not to confuse this with conditions for joining the EU," pointing out that the bloc's capacity for expansion was limited.
During her day of talks with President Viktor Yushchenko and Prime Minister Yulia Tymoshenko, Merkel said that Ukraine was an important partner for Germany and that Germany would offer Kyiv support in pursuing its reform plans.
Merkel keeps quiet on NATO
Ukraine's Sehodnia newspaper had reported ahead of Monday's talks that the German leader was likely to leave the issue of NATO-membership on the back burner, which indeed she did, calling it "a matter between Ukraine and the NATO member states."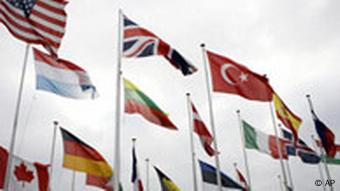 Germany has been hesitant about preparing Ukrainian membership in NATO
However, at a NATO summit in April, Merkel and French President Nicolas Sarkozy had opposed efforts by Poland and the Baltic states to set a specific timetable for eventual Ukrainian membership in the alliance.
Ukrainian media attacked Merkel and Sarkozy, saying Paris and Berlin feared a Russian shut-off of natural gas supplies more than they supported bringing democratic Ukraine into NATO.
Russia has been outspoken in its opposition to the NATO aspirations of Ukraine's government, and threatened military and economic retaliation were Ukraine ever to join the alliance.
Merkel on Monday made an indirect reference to the Kremlin, saying that "other countries that are not NATO members, and who do not have any relationship to this question (of Ukrainian membership) should not discuss or consider it."
In December, NATO is slated to discuss possible first steps toward Ukraine's membership in the alliance.
Securing a stable energy supply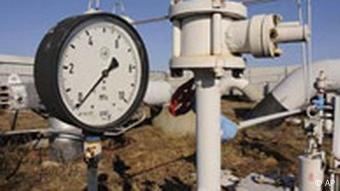 Ukraine is an important transit country for westward-bound Russian gas
The need for Kyiv to sign a long-term agreement with Moscow guaranteeing stable natural gas deliveries to Europe via Ukrainian pipelines was another top discussion point.
Ukraine is critical to the security of Europe's energy import network, as most of Russia's westward-running oil and gas pipelines pass through the country.
President Yushchenko promised to fulfill Ukraine's commitment to reliably deliver gas from Russia, but also warned of "political blackmail" from Russia and others in light of upcoming price negotiations.
In past years, Kyiv and Moscow have disagreed repeatedly on gas and oil shipment terms, leading to a two-day cut-off of Russian gas to Europe in January 2006.