The final session of the Bundesrat, which represents Germany's 16 federal states, beforethe country's national election on September 24 focused in part on traffic laws. And the measure that attracted the most notice was one that will presumably affect the fewest motorists in Germany: a prohibition on driving with significant parts or all of the driver's face covered.
Although interpreted in some quarters as a ban on burqas and naqibs, the new rules apply to any facial covering, including, for instance, carnival masks and face-obscuring hoods. Lawmakers justified the measures by saying it was necessary to "ensure that a driver's identity can be determined," such as by automatic cameras installed to catch speeders. The Bundesrat highlighted this rationale in a tweet announcing the new traffic legislation.
The Transportation Ministry declined to comment on whether the legislation amount to a "burqa ban," issuing the following statement: "The rule of law requires that only drivers can be held accountable. That presumes that they can be identified."
The legislation stipulates a fine of €60 ($72) for individuals who partially or fully cover their face while behind the wheel.
The law explicitly allows head coverings, including the head scarves worn by some Muslim women as a sign of their faith and cultural identity. But the Central Council of Muslims in Germany was critical of the new legislation, calling it "symbolic politics."
"Proof of this is the fact that laws are being passed in areas that don't need to regulated," Deputy Council Chairman Nurhan Soykan told Deutsche Welle. "We know of no case in which a burqa or niqab wearer caused an accident that can be linked to wearing a full-body veil."
A number of countries including France, Belgium, the Netherlands, Austria and Switzerland have enacted partial bans on wearing the Islamic full body covering, and a party leader in Australia caused a stir this past August by appearing in parliament dressed in a burqa. Civil servants in Germany are prohibited from wearing full-face veils throughout Germany, and burqas are prohibited in certain public spaces in Bavaria and other German states. Chancellor Angela Merkel came out in favor of restricting the wearing of burqa at her conservative party's convention late last year.
Read More: Support, sarcasm after Merkel calls for banning burqas
Road racing now a crime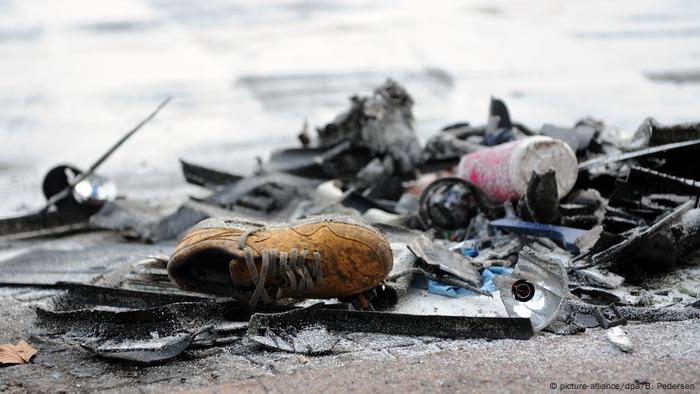 Illegal road racing often has fatal consequences
The Bundestag also reclassified road racing on German streets from a misdemeanor to a crime, punishable by up to ten years jail time. Violators could also have their vehicles confiscated and their licenses revoked, sometimes permanently. Organizing illegal street races will now also be a crime.
Germany's largest automobile association ADAC welcomed the new legislation, pointing out that videos of illegal racing have increasingly been posted on social media.
"The reclassification as a crime should send the important signal that such races are not misdemeanors and should be vigorously condemned by society," an ADAC spokesperson told DW. "(Lawmakers) have made it more difficult to achieve recognition for such behavior after the fact on social media."
But the ADAC said more police checks were necessary to curtail the phenomenon. Illegal road racing has attracted significant recent public attention after cases in which innocent non-participants died. In March, a Berlin court gave two young men life sentences for murder after an innocent person was killed in an illegal road race. There had been increasing calls to make illicit racing itself a crime.
Harsher penalties for making calls and hindering rescuers
Messing about with mobiles behind the wheel is about to get more expensive
Drivers who fiddle around with mobile phones instead of keeping their eyes on the road will also face stiffer fines, which will rise from the current €60 to as much as €200 ($240).
"People who look at their mobile phones while behind the wheel are driving blind and endangering themselves and others," said Transportation Minister Alexander Dobrindt. "The message is hands off your mobile phone when driving. Distraction is one of the biggest risks causing accidents."
Hands-free mobile phone systems are still allowed.
Greater penalties are also in store for drivers who fail to pull over and form clear channels that allow emergency rescue vehicles to reach the scene of an accident. Violators will face fines of up to €320 and could lose their license for a month.
"With serious accidents on the autobahn, seconds can decide whether the victims die or can be saved," Lower Saxony Interior Minister Boris Pistorius told the Bundesrat before the law passed.
People have been accused of not sufficiently clearing the way for rescue vehicles in several prominent incidents, including a bus accident in Bavaria in July in which 18 people were killed.