Forty-eight people were traveling on the bus when it slammed into a semitrailer near the Bavarian town of Münchberg and burst into flames early Monday, police said. Up to 18 people were first said to be missing, then confirmed dead.
"It's clear now that all 18 of the missing people on the bus died in the accident," police said on Twitter.
Read more: Road accidents in Germany on the rise
They said the ages of those on the bus ranged from 41 to 81 and that most were from the eastern German state of Saxony.
Government spokesman Steffen Seibert said Chancellor Angela Merkel voiced "great dismay" at the crash.
"Unfortunately numerous people...lost their lives in this burning bus," Seibert told a news conference. "Our thoughts go to the victims and their family members, as well as to the injured. We hope that those who have been rescued will recover from their injuries."
Read more: How safe is bus travel in Europe?
Forensic specialists were sent to the site to remove and identify the bodies from the charred vehicle. Federal Transport Minister Alexander Dobrindt also examined the crash site.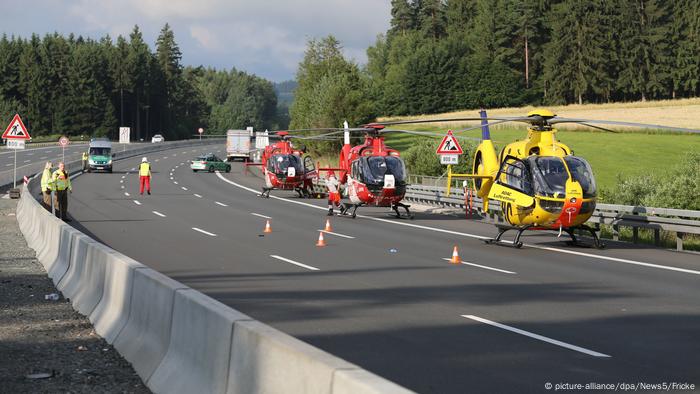 Rescue helicopters on the A9 highway near Münchberg after Monday's deadly bus crash
Local mayor: 'This is just catastrophic'
Footage broadcast on German television showed a burnt-out bus wreck on the A9 highway with helicopters, ambulances, fire brigade trucks and 200 rescue workers on the scene. Police said the roadway's southbound lanes would remain closed for the rest of the day.
The mayor of the nearby town of Stammbach, Karl Philipp Ehrler, told the German Press Agency it was the worst accident the community had experienced.
"It's madness. This is just catastrophic," he said.
Holiday ends in tragedy
The coach went up in flames after it plowed into the truck at the end of a traffic jam shortly after 7 a.m. local time (0500 UTC). Police said the truck driver was uninjured, but that the driver at the wheel of the bus during the crash was among the dead..
According to the Bild newspaper, the tour group on the bus was heading for Nuremberg.
The A9 motorway connects several popular holiday spots in the southern German region, which is known for its castles and hot spas.
The crash, at the start of the Europe's summer holiday season, follows a fatal accident in January in which a Hungarian bus traveling through Italy burst into flames, killing 16 students. In October 2015, 43 people died when a coach collided with a truck and caught fire near Puisseguin in southwest France - the country's worst road accident in three decades.
nm, tj/se (AFP, AP, dpa)