German basketball star Dirk Nowitzki told journalists he may consider applying for US citizenship on Monday, as he attended a reception with US President Barack Obama.
"Yeah, if I stay in the States, it would probably make sense," Nowitzki said ahead of the reception at the White House's East Wing. "I'd have to see what my situation is, but it's something I'd look at."
During the visit to Washington by the Dallas Mavericks - who Nowitzki led to their first National Basketball Association championship last year - Obama singled out the 33-year-old for praise.
"I think it's fair to say that we have rarely seen a better playoff run than Dirk Nowitzki had last year," Obama said, highlighting the player's determination in solo efforts against opponents Miami Heat, despite a finger injury. "Clearly Dirk is a tough guy," said Obama.
'Skinny kid, goofy haircut'
Obama noted how the player had enjoyed marked success after arriving in the US "as a skinny kid from Germany with what Nowitzki himself described as 'a goofy haircut'."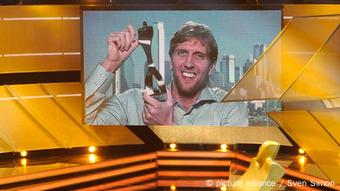 Nowitzki was named German male athlete of the year for 2011 by sports writers
The forward handed the president a blue Mavericks jersey with the number 23, harking back to the number of retired superstar Michael Jordan, who played for Obama's favorite team, the Chicago Bulls.
Acquiring US citizenship would not mean that Nowitzki would have to give up his German passport. German tennis player Tommy Haas gained duel citizenship in 2010 and continues to represent Germany in his sport.
Nowitzki is known to be proud of his German roots and has said he would like to live in Germany and the US when he retires from basketball. Although he has played for Dallas for 13 years, he is also a regular volunteer for the German national team.
In 2008, Nowitzki carried the German flag at the opening celebrations of the Olympic Games in Beijing. He was named German male athlete of the year for 2011 by a panel of sports writers.
Author: Richard Connor (dpa, SID)
Editor: Nancy Isenson