Surrogacy in Thailand has drawn international outcry after an Australian couple allegedly abandoned their surrogate baby after finding out the boy has Down Syndrome, as well as other health complications. But the couple took the child's twin sister back to Australia.
The case started a debate on surrogacy in Australia, where some have called on the government to ban international surrogacy while others say that the case calls for exactly the opposite, stating that the practice should be legal in Australia. The government said that it was investigating the parents - especially since it was reported that the Australian man had various convictions for sexually abusing minors.
Prime Minister Tony Abbott reacted to the controversy by saying that there was no rush to change laws on surrogacy in Australia.
In Thailand, however, the controversy has led the junta to crackdown on the surrogacy industry and to indicate that the new military government would make "commercial surrogacy" - defined as involving payments above reasonable expenses to the surrogate and/or payment to an intermediary to arrange surrogacy - illegal.
The Thai military government cracked down on fertility clinics in the country, shutting down the site used for Gammy's procedure and arresting the medical professionals involved
Murky system
"Surrogacy is not prohibited or regulated" in Thailand, says Nandana Indananda, partner at Tilleke & Gibbins, a regional law firm in Southeast Asia, meaning it's neither legal nor illegal. However, the Medical Council of Thailand, issued a notification in 2001 specifying the terms a physician should follow when a surrogacy arrangement is performed, he adds. One of the conditions is that a surrogate mother must be a biological relative of the couple - and she cannot be paid.
Until now, the unregulated status meant that Thai authorities didn't intervene in surrogacy cases involving foreign couples.
Although no specific authority or government agency was established to oversee this issue, the Royal Thai College of Obstetricians and Gynaecologists, a special body under the Medical Council, seems to be the most relevant authority responsible for addressing concerns relating to surrogacy issues, says Indananda. "However, I have never heard of this authority conducting any investigations regarding a surrogacy case which does not conform to medical standards," he added.
The murky status made the legal status of the procedure complicated. According to Thai law, a birth mother is always the mother of the child, and if she is married, her husband the father, irrespective of genetic proof. As such, most young women acting as surrogates are young and single, and must sign a contract outlining their intent to allow the biological parents to adopt the child.
But Indananda raises doubts over the validity of such agreements as many scholars find them lacking legal basis and thus unenforceable. As a result, courts would have a hard time pegging the contracts to a specific law. Despite these hurdles, Rachel Kunde, executive officer of Surrogacy Australia, an organization supporting couples seeking surrogate mothers, says that 99 percent of the cases "end positively."
Shutting down
Until now, Thai authorities seemed to turn a blind eye to surrogacy. As long as birth mothers relinquished their rights, the intended parents - the term used for parents who turn to surrogacy - could take them home with little to no interference.
However, since the Gammy case, the authorities in Bangkok started a crackdown on fertility clinics. Using the Medical Council's rules as a framework, they started raiding all sites in the country that offer such procedures. The clinic responsible for Gammy's surrogacy was one of the first centers to be shut down. Police are also investigating the agent and doctors involved in the case with a view to laying charges.
As such, agencies and clinics based in Thailand have started taking down their websites or suspending services.
Bill Houghton, founder and director of Sensible Surrogacy, says that his agency is not accepting new clients for Thailand while they wait for clarity on the regulatory situation.
He believes the procedure is soon likely to be banned. The military junta vowed to toughen punishments and close loopholes, which they say are being exploited by foreigners seeking Thai surrogates. A draft bill proposes a tighter ban on commercial surrogacy carrying up to 10 years imprisonment for anyone - doctors, egg donors, prospective parents or surrogates - found in breach of the rules, according to a government spokesperson.
Indananda says that the bill may be presented soon but given that it is covers many aspects of surrogacy - from the legal rights of parents to the technology used - it will take some time for the process to be completed. In the meantime, there is "no solution to the problem of legitimacy of parenthood."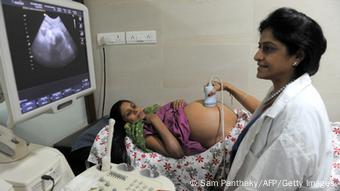 After India tightened the eligibility rules for couples looking for surrogacy, Thailand became a popular market for homossexual couples
In a limbo
The current situation has also left many foreign intended parents in a limbo. Surrogacy Australia estimates that there are currently between 100 and 200 Australians that are going through procedures in Thailand and their future is uncertain.
Ever since the controversy broke out, there have been reports of Australian couples whose exit from the country with surrogate babies was delayed by the Thai authorities. Given the latest developments, Surrogacy Australia's Kunde says her organization is "very concerned" for the parents and hopes they can bring their babies home without any trouble from Thai authorities. As Thailand - which was a popular surrogacy market - changes its laws, potential intended parents are forced to look elsewhere, leaving homosexual couples, single or unmarried parents with even less choices.