After 22 years in power, on Sunday President Jammeh told Gambians he had filed an injunction in the Supreme Court to restrict Barrow from taking office despite Barrow's winning the 2016 election.
"I have confirmed that we have filed an application for an injunction to restrict Mr. Adama Barrow from being sworn in as well as restricting the chief justice and any other parties from swearing in Mr. Adama Barrow until the application is decided by the Supreme Court of Gambia. And, until then, the status quo remains," Jammeh said.
Jammeh initially conceded defeat in the December 1 election, but a week later backtracked and rejected the vote for perceived irregularities.
He called for the election to be restaged and appointed judges to the Supreme Court, which had not sat for over a year. But the Nigerian and Sierra Leone judges said they cannot sit until May.
After the rejection the strongman closed media outlets and the country's electoral commissioner fled the country following death threats.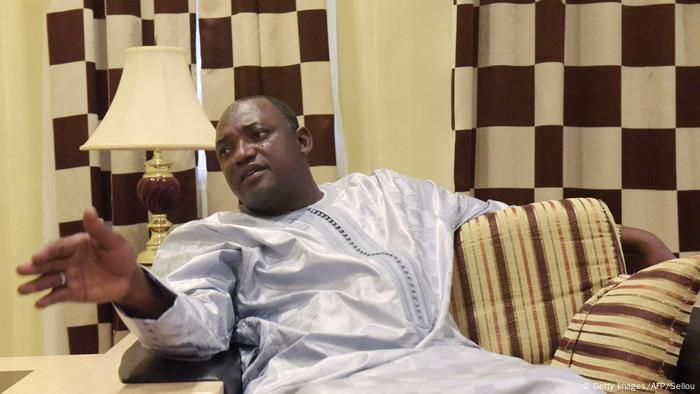 Adama Barrow has taken refuge in Senegal ahead of his planned inauguration
In a state television broadcast, Jammeh called Liberian President Ellen Johnson Sirleaf, who heads a West African regional bloc, and requested that the bloc help facilitate Supreme Court judges.
"The only peaceful resolution of this impasse is through the courts," he told the head of Economic Community of West African States (ECOWAS).
Sirleaf said "we are going to work on this right away," and she encouraged Jammeh to confirm that he wants peace and will follow the constitution.
"Gambia needs peace, and ECOWAS wants peace," she said.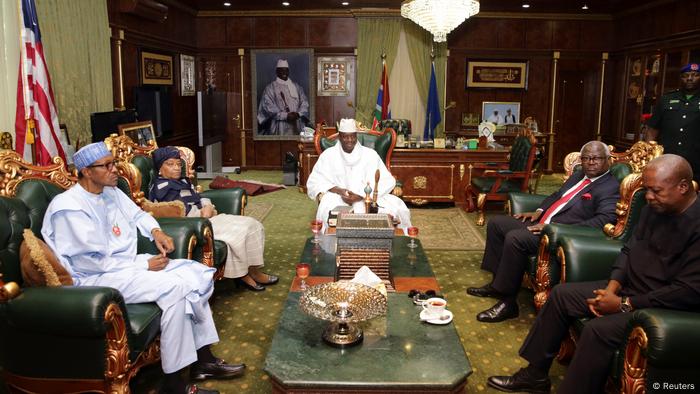 The West African bloc has repeatedly asked Jammeh to step down
Military forces ready
ECOWAS said military intervention was possible if Jammeh did not cede power at the end of his mandate on January 19, and had already prepared a standby force led by Senegal, Gambia's only bordering country.
The Nigerian army was also reportedly preparing a battalion of 800 troops for possible military intervention, though it denied the claims.
On Sunday, Barrow's spokesperson Mai Fatty insisted that his inauguration would go ahead as planned in three days, despite the injunction.
"Jammeh's term shall end on the 19th, and the same date president-elect Barrow's term begins. Nothing will change that. He will be sworn in and shall assume office on that date without fail," Fatty told AFP in Dakar.
On Sunday, Senegalese President Macky Sall confirmed that he had accepted a request by Liberian President Sirleaf to host Barrow in Dakar until his inauguration.
Fatty did not detail where the inauguration would take place and under what circumstances, given the expected difficulty for Barrow of returning to Gambia's capital, Banjul.
aw/kl (AFP, AP)