Jammeh (pictured) said claims of voting irregularity meant he could not accept the unexpected end to his 22-year presidency on December 1.
"I hereby reject the results in totality," Jammeh told state television on Friday.
"Our investigations revealed that in some cases, voters were told the opposition won already; they returned home." Jammeh said voter card records and the national voter register did not match each other.
"I recommend fresh and transparent elections which will be officiated by a god-fearing and independent electoral commission."
But international observers have praised the election as transparent, unlike the many mired in allegations of foul play during Jammeh's time in office.
The US State Department has called Jammeh's move a "reprehensible and unacceptable breach of faith with the people of The Gambia and an egregious attempt to undermine a credible election process and remain in power illegitimately."
Senegal, Gambia's neighbor, called for an emergency meeting of the UN Security Council and warned Jammeh not to harm his nation's interests.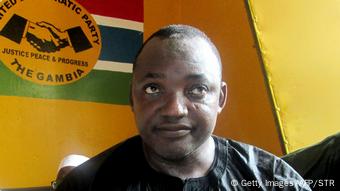 Gambian President-elect Adama Barrow
The strongman lost to opposition candidate Adama Barrow - and shocked Gambians by conceding defeat after the election. Latest official figures gave Barrow 43.29 percent of the vote and Jammeh 39.64 percent. Voter turnout was 59 percent.
"Gambians have spoken," Jammeh said, shortly after calling Barrow to congratulate him. "I came on a Friday on December 22, 1994, and today, December 2, 2016, you have decided to put me in the back seat."
Jammeh also promised to retire to a life of farming. He must hand over power a month after the poll, according to the constitution.
The autocrat came to power in a coup in 1994 and was initially welcomed on his promise to end corruption. However, human rights groups accuse him of clamping down on dissent, including killing political opponents. Jammeh's colorful statements ranged from his pledge to rule Gambia for a "billion years" to claims of having magical cures for AIDS and infertility.
President-elect Barrow, a popular businessman, is a political newcomer and rode a wave of support among the country's unemployed youth. He's promised to end rights abuses and step down after three years to boost democracy.
Barrow has also promised to free political prisoners, and Gambian courts have already released at least 30 people imprisoned for protesting against Jammeh's government.
In an interview with DW, Barrow said Gambia would remain a member of the International Criminal Court, after a number of African nations recently announced they were quitting the tribunal.
jr/bw (dpa, AP, Reuters)