Adama Barrow's election win in Gambia opened on a difficult chapter for the new president of the tiny West African country. Outgoing President Yahya Jammeh refused to hand over power and Barrow fled to Senegal for security reasons.
Barrow was forced to take the oath of office in the Gambian embassy in Dakar. At the same time, West African troops crossed the border from Senegal into Gambia threatening military intervention in order to push Jammeh to step down.
The crisis in The Gambia affected President-elect Barrow not only politically but also personally. Days before his planned inauguration, his eight-year-old son, Habibu Barrow, was bitten by a dog and later died. Barrow subsequently missed his son's funeral as he was advised to remain in Senegal for his own safety.
Barrow was the clear winner of the election. 263,515 marbles were cast in his favor. Adama Barrow, the opposition leader, will be the next president of The Gambia. Barrow was declared winner with 45 percent. He stunningly defeated the incumbent President Yahya Jammeh who only managed 37 percent - or 212,099 marbles.
Even though his victory came as a surprise, Barrow himself seemed to see into the future when he told DW before the election that Gambia needed a change. "The infrastructure in 1975 is better than now. Road network in the capital is very bad," Barrow said (watch the full interview here).
Six months ago, hardly anyone would have recognized Barrow on the streets. Now his portrait is plastered on car windows, campaign posters and even t-shirts. Barrow entered into politics after top officials from the opposition United Democratic Party (UDP) were jailed in July. Under his flag, seven opposition parties and one independent candidate joined forces against the 22-year- rule of President Yahya Jammeh. The 51-year-old former army officer seized power in a coup in 1994.
Political novice
Adama Barrow himself has no political history, which may have helped him to victory. Instead, he has a history as a workaholic: "I work 12, 13, 14 hours a day," he once told AFP news agency. He is a businessman owning an estate agency. His work as well as his private life are guided by his faith, the practicing Muslim reveals. "If you are a religious man it always influences you." Barrow is husband to two wives and father of five children.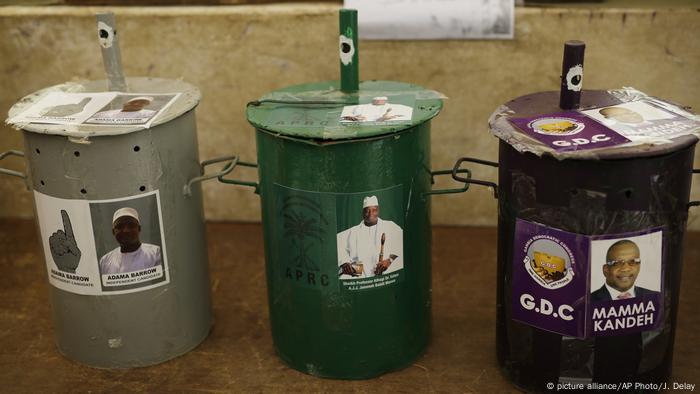 Gambians voted by inserting a marble into the drum of their preferred candidate
As Barrow himself lived in Great Britain for three-and-a-half years when he was younger, he understands why young Gambians are drawn to Europe. The sluggishness of the countries economy and the suppression during decades of rule under President Yahya Jammeh has pushed thousands on the perilous journey across the Mediterranean Sea. This year, more than 10,000 young Gambians have fled the country.
Some of his top priorities would therefore be to revive the economy and to end human rights abuses. Barrow already sent a call for more transparency, by critizing the blocking of internet and international phone calls which the current government had imposed during the elections: "We are not happy. Gambians need to know what is going on. Social media is very important for this election," Barrow said. "Power belongs to the people. You cannot stop us and you cannot stop them."
Barrow announced that he will step down from the presidency after three years to boost democracy in The Gambia.
(afp, dpa)