Forces loyal to Libyan leader Moammar Gadhafi shelled the center of Zawiya on Monday, hours after rebels claimed they had seized control of much of the strategic port, which lies 50 kilometers west of the capital, Tripoli.
According to news agency AFP, there was a heavy artillery exchange after several Grad missiles hit the city.
Rebels announced earlier on Monday that they had seized "most" of the key port, the last barrier in their push towards the capital. They were now focusing on clearing out pro-government forces and snipers, so they could set up barricades.
"Basically most of the town is under the control of rebel fighters," rebel Field Commander Abdul Hamid Ismail told AFP.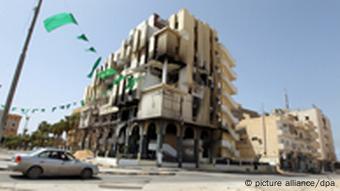 The battle of Zawiya has raged for several days
Rebels said battles for the town had raged through the night, and that Gadhafi's forces had been pushed to the eastern outskirts.
Control of the Zawiya oil refinery, one of the country's largest, remained in the hands of government forces but rebels said they were closing in on them.
The rebels also claimed they had also won control of the town of Sorman, 60 kilometers west of Tripoli and Garyan, 50 kilometers to the south.
Libyan government spokesman Mussa Ibrahim has, however, said that the regime's forces were capable of retaking towns and districts where the rebels have made advances in recent days.
"The fall of Zawiya would be the biggest milestone for the rebels since the liberation of Misrata. It's a real morale booster for them and implies a sense of momentum," analyst Shashank Joshi of the Royal United Services Institute in London told news agency Reuters.
Gadhafi plea
As the rebels advanced, Gadhafi urged Libyans to free the country from "traitors" on Monday. He was speaking from an undisclosed location over a bad telephone line in a state broadcast.
Meanwhile, a senior Libyan official flew into Cairo with his family on Monday.
Egyptian sources said Nasser al-Mabrouk Abdullah, identified as Gadhafi's deputy interior minister, flew to Cairo airport with nine relatives from the Tunisian island resort of Djerba.
He told officials he was on holiday and there was no immediate comment from Tripoli on his move to Egypt.
It was not immediately clear what the motives were for Abdallah's unannounced trip, or whether it amounted to a defection.
It came after some 1,600 North African migrants arrived on the Italian island of Lampedusa over the weekend, with the majority of them coming from war-torn Libya. The island's port authority said just 10 boats had carried the hundreds of migrants.
Author: Joanna Impey (AFP, Reuters)
Editor: Nicole Goebel