Now the region is trying to combat cartel violence.
Los Cabos regularly tops the list of the world's most dangerous cities. Criminal gangs operate here, and people often disappear without a trace. Yet the rich and famous, and tourists on package holidays, party like there's no tomorrow. In Cabo San Lucas, or Cabo for short, they relax and unwind without a care in the world, far removed from the problems and violence affecting the poorer neighborhoods.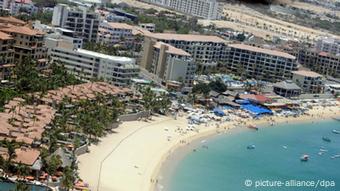 Los Cabos is also a strategic spot for the continent's drug cartels, forming a bridge between place of production and the key American market. Organized crime syndicates, like the powerful Sinaloa Cartel, are increasingly exploiting the peninsula's location on the Gulf of California. That's a disaster for the local economy, which has become increasingly reliant on tourism.
Join us for fascinating insights into Cabo's growing divide: between luxury and pleasure on the one hand, and violent crime and poverty on the other.

Broadcasting Hours:
DW English
WED 02.06.2021 – 01:15 UTC
WED 02.06.2021 – 04:15 UTC
THU 03.06.2021 – 09:15 UTC
SAT 05.06.2021 – 02:15 UTC
SUN 06.06.2021 – 08:15 UTC
Cape Town UTC +2 | Delhi UTC +5,5 | Hong Kong UTC +8
Lagos UTC +1 | Cape Town UTC +2 | Nairobi UTC +3
San Francisco UTC -7 | Edmonton UTC -6 | New York UTC -4
London UTC +1 | Berlin UTC +2 | Moscow UTC +3
DW Deutsch+
THU 03.06.2021 – 09:15 UTC
SUN 06.06.2021 – 08:15 UTC
Vancouver UTC -7 | New York UTC -4 | Sao Paulo UTC -3