Chancellor Angela Merkel was at Berlin's central train station on Friday to celebrate the inauguration of Germany's new high-speed rail line between the capital and the country's third-most populous city, Munich.
The ceremonial first journey from Munich to Berlin clocked in at just about four hours, two hours shorter than the previous connection. Over 300 rail and 170 road bridges had to be built along the 623-kilometer (387-mile) route, on which trains can travel at a maxium speed of 300 kilometers per hour (186 mph).
Politically symbolic and technically impressive, the new high-speed rail line between Munich and Berlin also injects some much-needed competition to Germany's long-distance travel market.
By shaving off a third of the travel time between the two cities and speeding up times elsewhere, German rail operator Deutsche Bahn has made passenger rail an even more attractive alternative to flying, in particular.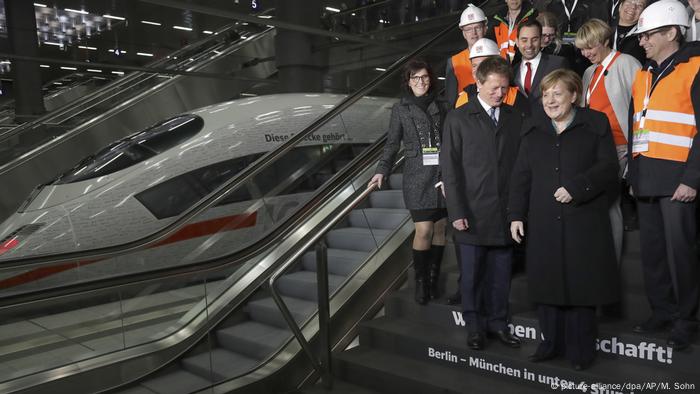 In the presence of chancellor Merkel, the chief executive of Deutsche Bahn, Richard Lutz (center), described the new rail line as "the biggest improvement in services" since 1994 — the time when the formerly state-owned rail operator became a publicly listed company
Struggling air market
It couldn't have come at a more opportune time. The domestic air market is struggling, with Air Berlin gone and Easy Jet still awaiting the green light from European regulators.
Lufthansa raised prices as soon as it took over Air Berlin's old routes. A four-hour rail trip between Berlin and Munich can compete with a 70-minute flight, particularly when airport screenings and delays are factored in. Proximity is also a factor, with rail lines being much closer to the city center than airports.
It's little wonder, then, that Deutsche Bahn is so optimistic about the new line's impact on its bottom line. It believes it will double the number of travelers per year, to 3.6 million passengers.
Costs, in tickets and taxes
The new line comes at a cost. A ticket between Munich and Berlin on the ICE Sprinter, the thrice-daily train that needs only four hours from city to city, is set at a baseline of €150 ($176), up from €132. Regular fares are also set to increase, with an average 2-percent rise in second-class tickets and 3-percent climb in first-class seats.
Read more: Unfair competition: The battle between high-speed rail and low-cost airlines
Then there are the broader expenses of building the new line. The 26-year project to improve rail travel between the Spree and Isar — formally known as "German Unity Transportation Project Nr. 8" — cost a neat €10 billion of tax-payer money.
Critics have also pointed to the environmental impact of the new line's constructions. Others have criticized its service to larger cities at the expense of smaller regions.
Freight rail also has little to get excited about in the new project. The new line is geared primarily toward passenger rail, meaning Deutsche Bahn will likely continue its struggle to compete with wheeled freight carriers.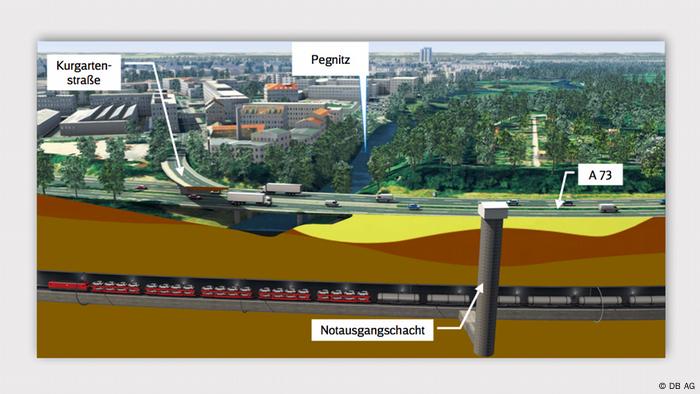 Nuremberg is a major German freight hub. A 13-kilometer-long (8-mile-long) freight train line now relieves this bottleneck along the route, with its centerpiece being a 7-kilometer-long tunnel underneath Nuremberg. Deutsche Bahn hopes to get a bigger share of German freight transport, which is expected to grow by 60 percent until 2025.
A win for large-scale projects
And yet excitement for the project's completion is palpable.
To talk to guests aboard one of the first two ceremonial arrivals in Berlin on Friday was to get a taste of what people see in the new line. Some spoke about the symbolism of running the line through a united Germany. Others welcomed the possibility of avoiding airport lines and delays.
The completion of the rail line is also a positive sign for a country where other major transport projects are caught in snags. Berlin's new airport remains a construction site five years after its scheduled opening. Plans for an additional runway at Munich's airport have run into opposition. Costs continue to rise for a controversial railway development in Stuttgart, meanwhile.
As with each of those projects, the Munich-Berlin route was built in response to trends reshaping German travel and society, from the growing volume of traffic to digitization and climate protection.
Twenty-six years and ten billion euros later, passengers will decide with their wallets whether it was worth it.