A glance at Bravo covers over the years is a look back at several generations of German teenage pop culture. From Elvis Presley and the Beatles, to Britney Spears and Tokio Hotel, Bravo gave teenagers the inside gossip and the glamorous photos they craved.
The magazine wasn't afraid to push the envelope, either. In 1959, it ran a series of photos that, over several weeks, added up to a life-sized poster of a scantily clad Brigitte Bardot: the first starschnitt, or "star cut." It was promptly censored in some parts of Germany, but other star cuts soon followed.
And in 1969, during the sexual revolution, Bravo broke taboos by starting the Dr. Sommer sex and love advice column.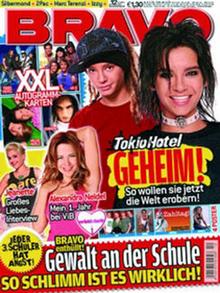 Bravo's readership is about two-thirds female

Bravo was coveted by many in communist East Germany, which banned Western publications. Berlin consultant Siegfried Ulrich, 56, who grew up in East Berlin, recalls getting to read Bravo in high school in 1966 because he happened to sit next to the son of a Bulgarian diplomat who smuggled in copies.
Collecting enough issues to piece together the life-sized photos, however, proved difficult.
"I bet nobody in the East was lucky to get one of his favorites complete," Ulrich said.
Elvis brought in the music
Bravo started as a film magazine for adults. But it soon became clear that teenagers were reading their parents' magazines, and so, in 1957, Bravo began calling itself "The Journal of the Young Heart."
Elvis Presley's phenomenal popularity soon added music to Bravo's focus, and the magazine also sponsored a Beatles tour in Germany.
Later, it wrote about Abba, Take That, The Backstreet Boys. American stars were featured -- Michael Jackson, Jon Bon Jovi -- as well as popular German groups like the 1980s-era The Kelly Family.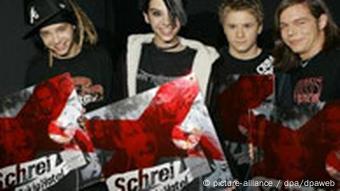 Tokio Hotel's popularity has increased current readership

Bravo's overall circulation skyrocketed to 1.7 million after the reunification of Germany in the early 1990s had many adult East Germans reading the magazine, according to current deputy editor-in-chief Alex Gernandt.
But competition from other specialty magazines, the Internet, even mobile phones has brought down circulation to 600,000 weekly.
Bravo editors say that each magazine is passed on an average of three times, giving them a weekly readership of about 1.8 million.
The circulation tends to spike with highly popular acts such as current boy band Tokio Hotel, which has hiked Bravo's circulation by as much as 80,000 weekly. But Britney Spears still boasts the most covers.
Getting teenagers to read
Gernandt said it is a constant challenge to compete for the money of German teenagers, a discriminating and well-traveled lot. He says Bravo's main competition is "not another magazine. It's mobile phones. That is where the kids spend their money."
In order to compete with other specialty magazines, Bravo has begun titles like Bravo Girl, Bravo Sport and Bravo Screen Fun. It also has editions in Eastern Europe and an interactive Internet site.
"Bravo is a reflection on popular culture and youth culture in general," said Antje Pfeffer of Berlin's Archive of Youth Culture, which published a book on Bravo's 50 years. "If there is a star that goes to No. 1, he always appears in Bravo."