The French president arrived at Havana's Jose Marti International Airport late Sunday and was received by Cuba's Deputy Foreign Minister Rogelio Sierra.
Hollande is the first European leader to visit the isolated communist nation since December, when Washington said it was ready to normalize ties with Cuba after half a century of diplomatic isolation.
"I arrive here in Cuba with great emotion, because it is the first time a president of the French Republic has visited Cuba," Hollande said in a message to Cuban people before landing in Havana. "It is also symbolic to be the first western head of state to take part in the overture to Cuba and to accompany the country in its transition," he added.
'A new phase'
The French leader lauded US President Barack Obama for his role in the lifting of trade embargo on the South American nation, saying the decision was key to opening Cuba up to the rest of the world.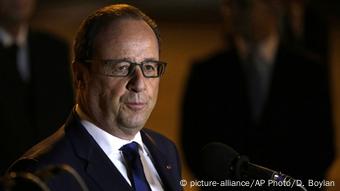 Hollande praised Barack Obama for opening the doors to Havana
"Cuba wants to move on to a new phase, a new period, a new time for this island that was victim of an embargo," Hollande said on a stop in Guadeloupe.
The French president, however, warned that both Washington and Havana still needed to overcome a number of economic hurdles. "There are still a lot of measures in place that block trade and business," Hollande said.
France is aiming to boost the European Union's economic interests in Cuba. The country has undergone gradual economic reforms under President Raul Castro.
Bilateral trade between France and Cuba currently totals around $388 million (346.7 million euros) per year; the majority is made up of Cuban imports, not French purchases.
Meeting with Castros
The visit comes after Cuban President Raul Castro held talks with Pope Francis at the Vatican on Sunday and thanked him for his assistance in the restoration of ties between the US and Cuba.
Raul Castro and Hollande are schedule to meet kater on Monday, however Havana has not confirmed the French president's meeting with Cuba's revolutionary icon, Raul's elder brother Fidel Castro.
shs/msh (AFP, Reuters)