French President Francois Hollande remained unfazed during a speech in the western town of Villognon on Tuesday after a police sharpshooter inadvertently shot and wounded two people.
The military police officer, or gendarme, was helping to provide security to the president from a rooftop. Pierre N'Gahane, the top officials of France's Charente region, said the officer in question had made a "mistake in the handling (of the firearm) while changing positions."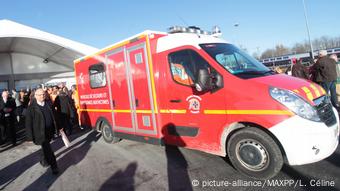 The two victims were taken away by ambulance, although their injuries are said to be "minor."
"The bullet grazed one person's calf and then lodged in another person's leg," N'Gahane said. The two victims were sitting in the VIP area next to where Hollande was speaking.
Video footage showed Hollande addressing an audience from a platform when the shot went off. The outgoing French President stopped speaking briefly and looked in the direction of the shot, saying "I hope it's nothing serious."
When his security detail did not intervene, he resumed speaking shortly afterwards. The speech was interrupted for just 20 seconds overall.
The victims were treated at the scene before being taken away by firemen, who confirmed that the injuries were "minor." N'Gahane reiterated that the victims were not in danger.
A judicial investigation will be launched under the supervision of the local prosecutor. An administrative inquiry also probing the incident will see the officer required to give a personal account of what happened.
France has remained on high alert for extremist terrorism after the January 2015 attack on the offices of Charlie Hebdo; the attacks across Paris in November 2015 and 2016's Bastille Day tragedy in Nice.
dm/bw (AP, Reuters)