Supporters of Britain's planned exit from the European Union were in uproar on Thursday after reports emerged that a Franco-Dutch company had won a contract to manufacture Britain's post-Brexit dark blue passports.
Two companies — Franco-Dutch firm Gemalto and British firm De La Rue — had been in the running to win the manufacturing contract for the new passports.
But De La Rue chief Martin Sutherland told BBC radio that the government had informed him De La Rue had lost out to Gemalto. British daily newspaper The Daily Telegraph reported Gemalto had undercut De La Rue's bid by £50 million ($70 million, €58 million).
The British government said the companies had been told about its decision on Wednesday evening, but did not confirm that Gemalto was the winner.
Read more: Pro-Brexit group gives EU negotiator Michel Barnier hamper of 'British' goods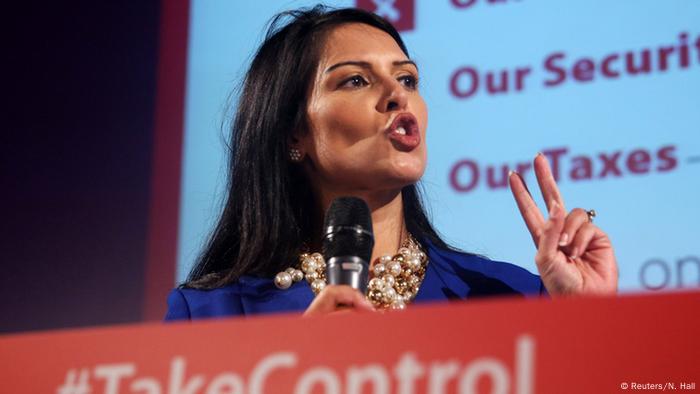 Brexiteer Priti Patel, seen here at a Vote Leave rally in 2016, called the decision a 'national humiliation'
'Deranged'
"Putting the job in the hands of the French is simply astonishing," former Cabinet minister and pro-Brexit advocate Priti Patel told British daily newspaper The Sun. "It is a national humiliation."
Leave.EU, a pro-Brexit advocacy group, wrote on Twitter that "only a deranged globalist would offer a public contract this symbolic to a foreign firm."
British Prime Minister Theresa May announced in December the reintroduction of the blue passport Britain had issued until it switched to burgundy in 1988 in line with other European countries.
Writing on Twitter, she said: "The UK passport is an expression of our independence and sovereignty – symbolising our citizenship of a proud, great nation. That's why we have announced that the iconic #bluepassport will return after we leave the European Union in 2019."
Sutherland said he had a tough task ahead of him: "I'm going to have to go and face those workers, look them in the whites of the eyes and try and explain to them why the British government thinks it's a sensible decision to buy French passports not British passports."
Read more: Brexit Diaries 31: See you later!
EU member Croatia has blue passport
Best for Britain, an advocacy group supporting the option of continued EU membership for Britain, accused critics of the decision of hypocrisy.
"All these Brexiteers claim to be champions of global free trade until it doesn't work out for their interests — at which point they magically transform into angry isolationists who don't back British firms to compete around the world," a spokesman said.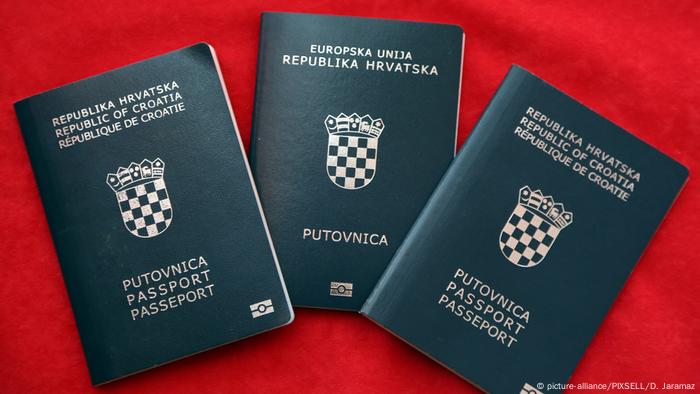 Croatia says it will keep its blue passports
Brexit is set to occur in March 2019, with production of the new blue passports slated for October 2019.
The EU recommends, but does not require member countries to issue burgundy passports. The bloc's newest member, Croatia, has said it will retain its pre-accession blue passports.
Read more: Ranking the most powerful passports
amp/kl (Reuters, AFP, AP)