According to research and analytics firm IHS Markit, battery-only cars made up 0.57 percent of global production in 2016 and will increase to 0.86 percent in 2017. Only in Norway does the figure exceed 1 percent.
But the global carmakers who descended on the southern German city of Frankfurt this week have unveiled the low-emissions vehicles and technology strategies they hope will let them profit from the changes due to hit the auto industry in the coming years.
This against a backdrop of scandal in the auto industry and a changing global political attitude to electric cars.
The world's largest carmaker, Volkswagen's diesel emissions-cheating exposed by US regulators in 2015 set off global outrage and there have been dozens more investigations into test-rigging by the wider industry.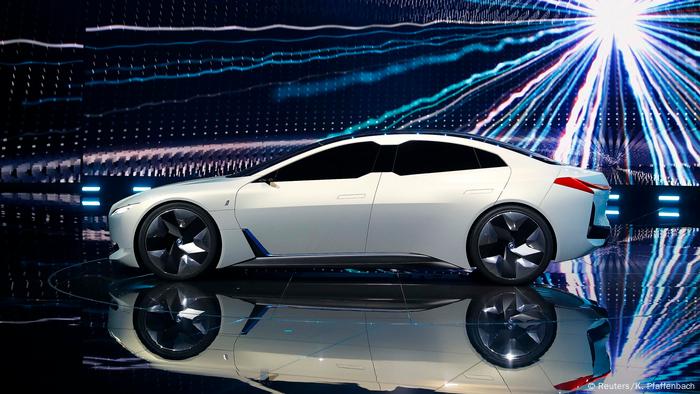 With its BMW i Vision Dynamics, the Munich-based carmaker aims to attack Tesla in the luxury e-car segment. Head of development, Klaus Fröhlich, said the car will make BMW "world leader in e-mobility."
The end of fossil-fueled driving
Britain and France have already pledged to ban fossil fuel motors from 2040, while China is mooting its own ban, although officials have not named a date. Shares in e-car pioneer Tesla jumped almost 6 percent on Monday after a Chinese minister said it was a question of when, not if, Beijing bans fossil-fuel cars. In Frankfurt, German giants VW, BMW and Daimler all announced far-reaching electric vehicle programs.
A year into the scandal, VW said it plans to develop 30 new electric cars and sell 2-3 million annually by 2025. On Monday, it increased the goal to 80 models. VW showed off a revised version of its electric ID Crozz crossover SUV concept vehicle as it announced a long-term electrification campaign.
The company plans to invest 20 billion euros ($24 billion) in upgrading plants, creating two new electric car platforms and training workers. The Wolfsburg-based carmaker said that depending on market developments it could sell 3 million battery-only vehicles a year in 2025.
VW measures the volume of batteries it will need to produce to power its electric fleets in multiples of the output of the "gigafactory" — Tesla's Nevada production facility, after US entrepreneur Elon Musk's Tesla Motors stole the spotlight from slower-moving European competitors this summer.
"Now the big question that everyone is asking is, when will we see [electric cars] in mass volume," VW CEO Matthias Mueller said on Monday.
VW is also seeking new global supplier contracts to source 50 billion euros of electric car content including batteries, which are not yet manufactured competitively in Europe. "A company like VW must lead, not follow," Chief Executive Matthias Mueller told reporters.
Meanwhile, Daimler's Mercedes-Benz premium division has unveiled a compact electric vehicle under its EQ sub-brand and the GLC F-Cell, a battery-fuel cell hybrid that can run on hydrogen and emits only water vapor. Daimler boss Dieter Zetsche said the company has set a target of saving 4 billion euros by 2025 to help fund the cost of its electric cars.
Mergers and job losses
Chinese firms have also bought up a number of parts suppliers and demonstrated an interest in Italian-American group Fiat-Chrysler. Such maneuvering makes Peugeot owner PSA's recent takeover of Germany's Opel appear less ground-breaking, as mergers increasingly appear the best way of meeting the huge research and development costs for electric and self-driving vehicles.
According to consulting firm AlixPartners, electric car batteries require 40 percent less manufacturing labor than mechanical ones. Such a cut would hit 112,000 jobs at European suppliers, even before outsourcing.
A phase-out of combustion engines by 2030 could cost 600,000 jobs in Germany alone, the country's Ifo economic institute has warned.
Not all there
Along with Nissan, Peugeot, Volvo and Fiat, Tesla shunned this year's IAA, months after the first of its keenly-awaited Model 3 cars rolled off the production line.
Other no-shows include Fiat Chrysler's namesake Fiat and its Jeep and Alfa Romeo brands, Peugeot and its DS luxury division, plus Nissan, Infiniti and Volvo. Even Porsche, part of Volkswagen, didn't wait for the show but showed off its new Cayenne SUV on August 29 in Stuttgart.
jbh/uhe (AP, AFP, Reuters)