Around 40 organizations have come together under the banner "Blockupy" in Germany's financial center Frankfurt, for a long weekend of protest between May 16 and 19. They include anti-capitalist organizations like Attac and Germany's socialist Left party, and their aim is to demonstrate against the financial policies of European leaders.
The objects of their ire are the European Central Bank, the International Monetary Fund and large financial institutions like Germany's Commerzbank – and they hope to paralyze much of central Frankfurt, particularly its banking quarter, over the coming days.
Around 30,000 protesters were expected over the weekend, though the "Occupy" camp, which has taken up the area around the large euro sign in front of the ECB for the past eight months, was cleared relatively peacefully by police on Wednesday.
But the protesters are reportedly still hoping to take advantage of a German holiday on Thursday, when they plan to occupy several city squares and blockade the ECB entirely on Friday.
Protests banned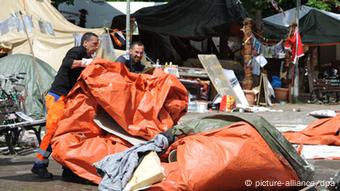 The 'Occupy' camp was dismantled after a court order
A regional court banned many of the planned demonstrations earlier this week, although a rally on Saturday was granted permission. It was expected that many protesters would try to blockade the banks regardless of the ban, raising the prospect of violence, and the police said they are preparing for the possibility of up to 2,000 violent protesters.
Attac spokeswoman Frauke Distelrath said the court bans were unjustified. "They are imagining these horror scenarios – the number of violent demonstrators is completely exaggerated," she said. "Our alliance has an absolute consensus on the issue of non-violence."
Distelrath sees the court ruling and the police's statements as fear-mongering. "The Frankfurt city council is doing everything it can to prevent our de-escalating concept from being realized," she says. "Metro stations are being closed down, streets are being blocked off. They are creating a chaos and blaming it on us. The banking quarter is already blocked – but not by us."
Distelrath admitted that she could not guarantee that all the protesters would remain peaceful over the weekend, but she said that an authority that wanted to stop all violence would have to cancel football matches and similar large public events. She said that the organizers of Blockupy were considering an emergency petition to Germany's constitutional court to lift the bans.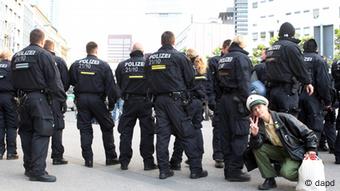 Police say there could be up to 2,000 violent protesters
Tactical retreat
Whether the authorities' fears are justified or not, the city is preparing itself for a state of emergency. Pedestrianized shopping zones have been cleared, and several shops have said they will stay closed over the weekend. Commerzbank has also said it would be closing its headquarters and several branches in the city.
On top of this, a farewell event for former ECB board member José Manuel González-Páramo was also being moved from the city center to a location near Frankfurt airport.
Even a number of city tours have been cancelled, while the public transport service is to be significantly curtailed.
Author: Günther Birkenstock / bk
Editor: Andreas Illmer