Diébédo Francis Kéré's striking Serpentine Pavilion, unveiled Tuesday, was inspired by the tree that serves as a central meeting point for life in his hometown of Gando in Burkino Faso. In this way, his latticed, indigo blue pavilion seeks to connect its visitors to nature - and each other.
An expansive roof mimics a tree's canopy, allowing air to circulate freely while offering shelter against London rain and summer heat.
"In my village, during the hot day, everyone is gathering under the tree, you have the mothers, the fathers, the elders then the kids," Kere told AFP.
"I grew up listening to stories in my village and indigo blue, a natural color, is so important to the culture," he added.
Kéré is committed to socially engaged architecture and ecological design that is epitomized by his award-winning primary school in Burkina Faso.
Read: Art is part of development, says architect of Burkina Faso opera village
Read: Architect Francis Kéré to build huge mobile theater at Berlin's Tempelhof airport ramp
"My experience of growing up in a remote desert village has instilled a strong awareness of the social, sustainable, and cultural implications of design," he said in a statement. "I believe that architecture has the power to surprise, unite, and inspire all while mediating important aspects such as community, ecology and economy."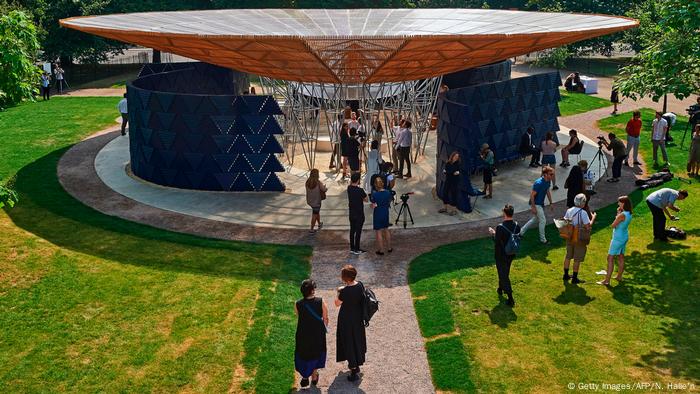 Diébédo Francis Kéré's Serpentine Pavilion draws on village architecture in Burkino Faso
The pavilion's design is a strong statement on architecture's ability to foster sustainability.
"The roof becomes a funnel channelling water into the heart of the structure," Kere noted. "This rain collection acts symbolically, highlighting water as a fundamental resource for human survival and prosperity."
Kéré, who leads the Berlin-based firm Kéré Architecture, is the 17th architect to accept the Serpentine Galleries' invitation to design a temporary Pavilion in its grounds.
His predecessors include Zaha Hadid, Jean Nouvel, Frank Gehry and the Chinese artist Ai Weiwei.
The pavilion can be viewed from June 23 to October 8, 2017 in London.