French Environment Minister Segolene Royal announced on Sunday that the country's oldest nuclear power plant will close by 2020.
"The decree on the closure of the Fessenheim plant has been signed and published this morning in the official (government) journal," Royal said in a tweet.
According to the decree, the Fessenheim plant will close once the new reactor being built at Flamanville on the Normandy coast "enters service."
The plant has been operational since 1977 and sits near Germany's border with France. The decree marks the partial fulfillment of French President Francois Hollande's campaign pledge during the 2012 presidential election to close the plant during his term, which ends in May.
The government's decision comes days after French nuclear plant operator EDF said it would only shutter the Fessenheim plant after receiving compensation for its closure alongside the successful commissioning of the Flamanville plant.
"I would like to pay tribute to the work of Fessenheim employees and services providers who operate our industrial equipment safely and with excellent performance. I assure them of the consideration I shall bring for their future in all circumstances," said EDF chief executive Jean-Bernard Levy in a statement.
Problematic reactors
The Fessenheim plant has been a source of tensions between France and its neighbors Germany and Switzerland. In 2014, one of the plant's reactors had to be shut down after water was discovered leaking from several places.
According to documents obtained by the "Süddeutsche Zeitung," the reactor had to be shut down by adding boron to the pressure vessel, an unprecedented procedure in Western Europe, according to experts. The incident allegedly occurred due to jammed control rods.
However, French authorities played down the incident by not divulging the gravity of the situation. An official report from France's nuclear authority ASN did not contain information on the need to use boron, nor was the incident reported to the International Atomic Energy Agency in that manner.
Despite the incident, France continues to rely on nuclear energy, which covers 75 percent of its energy needs.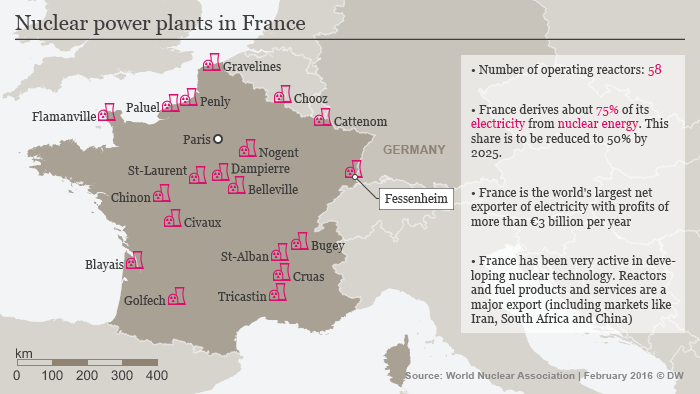 ls/jm (AFP, dpa, ARD)