Police arrested two dozen people in the French capital on Saturday morning as demonstrators commemorated the one-year anniversary of the yellow vest protests against the government of President Emmanuel Macron.
In northwest Paris, police dislodged demonstrators trying to block the bypass around the city and fired tear gas to push back protesters who were preparing to march across town towards the Gare d'Austerlitz in the south.
Police said they had carried out more than 1,000 checks and arrested 24 people by 10:50 a.m. local time (0950 UTC).
Several metro stations in the city were closed on Saturday.
Protest is 'happy birthday' to yellow vest movement
Demonstrators mostly gathered in the southern and northwestern areas of the capital city. "We're here even if Macron doesn't like it," protesters chanted, while others sang "happy birthday" to mark the anniversary of the yellow vest protests.
Police attempted to call off a protest that had been arranged for Saturday evening as violence had erupted at the arranged place earlier in the day.
"I encourage the demonstrators to leave the Place d'Italie," Paris police chief Didier Lallement said at a press conference.
A journalist was taken to hospital after being wounded by a projectile during violent clashes at Place d'Italie. Images posted on social media showed a damaged visor and blood on his face.
Demonstrations took place across France on Saturday, which notably occurred around traffic circles where the grassroots protest began a year ago.
Read more: Opinion: France's Emmanuel Macron faces bumpy road to reform
What started the yellow vest movement?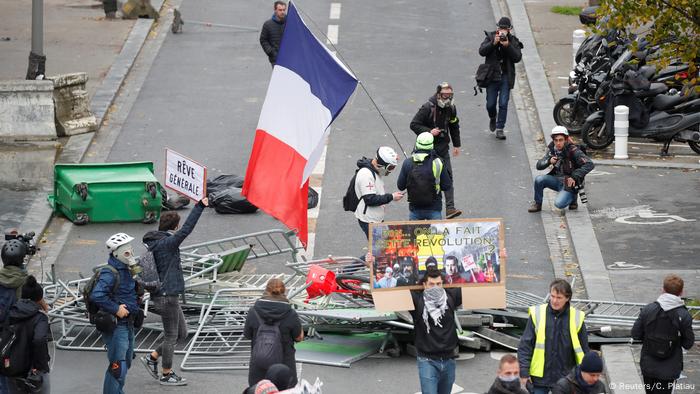 Some protesters set up roadblocks in Paris to mark the first anniversary of the yellow vest movement
The yellow vest movement, named for the breakdown vests found in French automobiles which the demonstrators wore, began in November 2018 in opposition to a fuel tax, with many protests involving blocking roads and highways.
The demonstrations, which occasionally turned violent, evolved into an anti-government uprising against Macron and his policies seen as favoring the rich. At its peak, the protest drew up to 300,000 people around the country.
The movement has since lost steam, going from tens of thousands of demonstrators to a few thousand. However, the leaders of the protest called on supporters to re-mobilize on Saturday to celebrate the movement's first anniversary.
Read more: Emmanuel Macron's national debate fails to stop protests
kmm,dv,mm/bk (dpa,AP, Reuters)
DW sends out a daily selection of hard news and quality feature journalism. Sign up here.