On the second day of his official visit to India, French President Francois Hollande and his accompanying team of ministers and corporate leaders witnessed over a dozen agreements. Among them was the inter-governmental pact for the French-built Rafale jets.
Hollande described the jet deal as "a decisive step," adding "there remain financial issues which will be sorted out in a couple of days." The French delegation had hoped to make the announcement of the finalized deal the centerpiece of Hollande's three-day visit to India. The deal is worth in the region of 5 billion euros ($5.4 billion).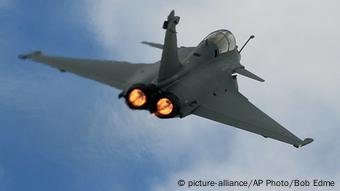 French-made Rafale fighter jet
Indian Prime Minister Narendra Modi confirmed the agreement on the Rafale jets had been reached as he and Hollande appeared at a joint news briefing in New Delhi on Monday. Modi said he hoped the commercial agreement would be finalized as soon as possible. The fighter deal is part of a $150-billion (138-billion-euro) overhaul of India's military.
Dassault cites 'four weeks'
Rafale manufacturers Dassault Aviation welcomed the announcement of the jet deal but suggested the final agreement could take longer. In a statement on Monday, Dassault said it "actively supports the French authorities in finalising a full accord within four weeks."
The government in Delhi has a policy of insisting that arms makers invest a percentage of the value of any major deal in India.
The Rafale aircraft's name translates as "gust of wind" or "burst of fire" and the twin-engined jet comes equipped with a wide range of weapons. Previously purchased by Egypt and Qatar, it has been used in operations in Afghanistan, Libya, Mali, Iraq and Syria. Modi announced the order during a visit to France in April 2015.
Other deals
Other deals under discussion, mainly over price, include an agreement for France's Areva to build six nuclear reactors in India. France's Alstom has signed a pact with Indian Railways to make 800 locomotives in India.
"From nuclear cooperation to railway locomotives, we are sowing the seeds of an ever-tightening web of cooperation between our two countries, " Modi said.
On Monday, Modi and his guest with ministers took a local Delhi Metro train to open the Interim Secretariat of the International Solar Alliance, an organization grouping 121 member countries:
Co-operation in fight against militants
Hollande said he and Modi had agreed to increase counterterrorism cooperation in the wake of the November attacks in Paris which had parallels with attacks in Mumbai in 2008 when ten members of an Islamic militant organization based in Pakistan carried out a series of 12 coordinated attacks over four days in Mumbai.
Modi confirmed the closer ties. "France is a special friend. Eighteen years ago, France was the first country we signed a strategic partnership with. We are now here to take it higher," Modi said at the joint news conference after his talks with Hollande.
"President Hollande and I have agreed to scale up the range of our counterterrorism cooperation in a manner that helps us to tangibly mitigate and reduce the threat of extremism and terrorism to our societies," he said.
Hollande is guest of honor at India's Republic Day parade on Tuesday. The event celebrates 66 years since the country adopted its constitution after declaring independence from its colonial rulers Britain, three years earlier, in 1947.
jm/msh (AFP, Reuters)