The 73-year-old former Chancellor Gerhard Schröder announced on Thursday that he was to marry his partner Kim So-yeon in a ceremony later this year.
The former Social Democratic Party (SPD) chancellor, who was in office from 1998 to 2005, has had a string of wives, most recently divorcing fourth spouse Doris Schröder-Köpf in 2016. He remains a divisive figure within the SPD.
A new chapter
Now chairman of the supervisory board at Russia state oil concern Rosneft, Schröder calls Russian President Vladimir Putin a friend. And his private life has also taken a new direction since leaving politics.
- The relationship between Schröder and Kim came to light in September last year, when the former chancellor's fourth wife Doris Schröder-Köpf claimed the South Korean had played a role in the breakup.
- The couple created something of a stir last weekend when they were spotted dining out at a South Korean restaurant in Berlin's fashionable Kreuzberg district.
- Schröder had already been dubbed "Audi Man" on account of his four marriages and the auto maker's four-ring car badge, while "The Lord of the Rings" is an alternative moniker. Now he will have the full Olympic set.
- Kim (not to be confused with the actress of the same name) has a daughter from a previous marriage while Schröder has two adopted children with his last wife.
Details, to be announced
In a press conference announcing the engagement, Gerhard Schröder said most details of the wedding were yet to be decided.
"I've already met her family," he told a press conference in Seoul. "The wedding will probably be held in autumn and the exact venue and timing will be decided later."
Schröder said he and Kim planned to split their time between Germany and South Korea.
"I have tremendous interest in South Korea's history, culture and arts and ... would like to have more opportunities to learn more about South Koreans and the country's heritage," he said.
In an interview with German society magazine Bunte, Kim said "Gerhard Schröder and I will find a middle way to live in both cultures without ostentation," she said.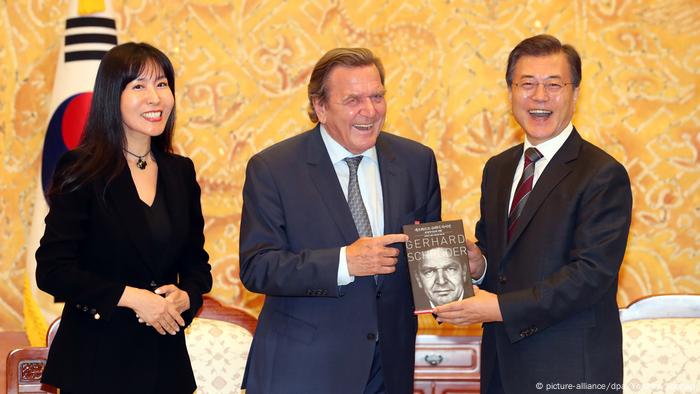 Gerhard Schröder and Kim So Yeon at the presentation of his book in South Korea
Who is Schröder's new wife? Kim So-yeon works for German business development agency NRW.Invest in the South Korean capital, Seoul, and is a member of the German-Korean Forum. She has also worked as a translator for Schröder.
And his former ones? Schröder was married to Eva Schubach from 1969 to 1972 and Anne Taschenmacher from 1972 to 1984. Neither was a major public figure and they were married to Schröder before he came to real public prominence.
He was married to Hiltrud Schwetje, a committed anti-nuclear campaigner, from 1984 to 1997 during which time Schröder became state premier of Lower Saxony. Their breakup was extensively documented by the press.
Schröder's fourth marriage was to journalist and politician Doris Schröder-Köpf and the couple adopted two children, a son and daughter, from Russia.
rc/msh (dpa, AFP)