After a days-long drama, US authorities lifted an evacuation order for 300 homes near the city of Tampa in Florida on Tuesday. The evacuation had been ordered over fears that a leaking toxic wastewater reservoir could cause flooding in Manatee county.
Florida deployed over twenty pumps and other equipment to drain away almost all of the 480 million gallons (1.8 billion liters) of contaminated water out of the reservoir. The state also reopened a major highway in the area.
"We believe the risk has been mitigated and controlled," said Scott Hopes, the county administrator.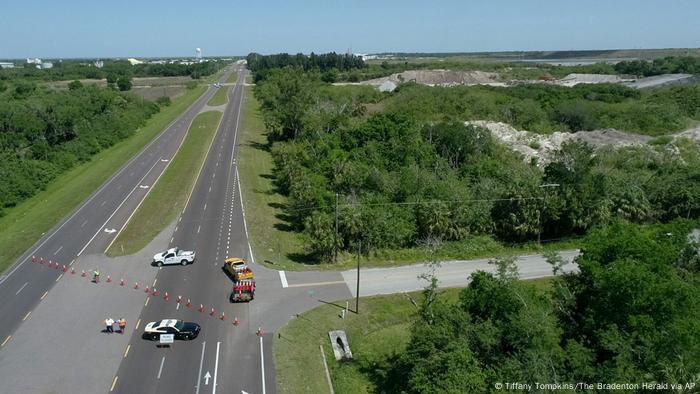 Authorities blocked roads near the leaky reservoir
Last week, local officials discovered leaks in the containment wall of the wastewater reservoir of Piney Point, a former phosphate mine. The wall is lined with Phosphogypsum, which is a byproduct of fertilizer from phosphate rock, and is considered to be slightly radioactive.
"We're now ending our fifth day since learning of a breach at the site, and I am in awe over the state, federal and local cooperation to ensure the safety of our residents," said Vanessa Baugh, the Manatee County Commission Chairman.
Florida lawmakers are currently proposing to spend $200 million (€168.5 million) to clean and close the Piney Point wastewater reservoir. Meanwhile, a legislative committee is seeking an amendment to use federal money for the cleaning.
"This has been a catastrophe waiting to happen for too long. We don't want to be talking about this problem again in five, 10 or 20 years," said Wilton Simpson, Florida's senate president.
Wastewater goes to Tampa Bay
The wastewater drainage is now being diverted to a seaport at the mouth of Tampa Bay. This has posed environmental concerns.
According to Ed Sherwood, executive director of the Tampa Bay Estuary Program, the nutrient-dense discharge into Port Manatee could spawn algal blooms, which is toxic to marine life in estuaries.
Meanwhile, Florida's environmental officials said that the water that was seeping from the reservoir was not radioactive.
am/dj (AP, Reuters)