Masked militants set up roadblocks in the north of the Sinai Peninsula early on Thursday to stop vehicles carrying soldiers or policemen, officials said.
Security sources cited by news agency Reuters said three soldiers traveling in a car near the town of Sheikh Zuweyid were ambushed and shot dead. In a separate attack outside Rafah, near the Gaza Strip border, two police conscripts were dragged from their vehicle and gunned down. The five officials were reportedly off duty and wearing civilian clothes.
Sinai criminal investigations chief General Hisham Darwish said police special troops had been dispatched to the area to search for the gunmen.
In another incident on Thursday, 16 people were injured in a stampede sparked by a small bomb explosion on a subway train in the Egyptian capital Cairo.
Meanwhile, the Egyptian army is continuing its search for eight servicemen missing after a gun attack targeting a navy patrol boat in the Mediterranean on Wednesday. Five troops were wounded in the incident, which the army described as a "terrorist attack."
Spike in attacks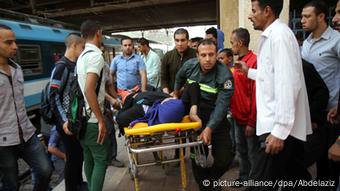 Sixteen injured after a grenade went off in the Cairo underground
The northern Sinai Peninsula has been plagued by Islamist violence since the July 2013 military overthrow of President Mohammed Morsi and the subsequent crackdown on his supporters.
A three-month state of emergency was declared in the region after a suicide bomb attack on an army checkpoint killed at least 30 soldiers last month. Authorities then moved to close the Gaza Strip border crossing at Rafah and ordered residents in the vicinity to relocate. The army has also demolished hundreds of homes along the frontier to create a buffer zone with the Islamist-controlled enclave.
The latest incidents come just days after Egypt-based militant Islamist group Ansar Beit al-Maqdis pledged allegiance to "Islamic State," which has seized control of vast stretches of territory in Iraq and Syria. Ansar Beit al-Maqdis has claimed responsibility for a number of deadly attacks on Egyptian security forces and has also carried out cross-border raids in Israel.
nm/kms (Reuters, AP, AFP, dpa)