They are dark grey, have rounded bodies, grow to two meters in length and weigh in at around 70 kilograms (154 pounds). For nature enthusiasts, the harbor porpoise is a rare, but delightful sight in European waters.
"I want people to know how amazing these creatures are and that they are not supposed to be in an aquarium or in shows," says Katrin Rudolph, a student volunteer working to help save the harbor porpoise population in the Baltic Sea. "They should be out in nature, that's the best thing for them."
However, at the moment, it's out in its natural habitat - the icy, cold waters surrounding Northern Europe - where this animal is most at risk. In fact, Germany's Nature and Biodiversity Conservation Union, NABU, says that the number of harbor porpoises in the west of the Baltic, the area near Germany's coastline, has dropped by 60 percent in the last few years.
"There is definitely a concrete danger of extinction for this population," warns Fabian Ritter, Head of the Whale and Dolphin Conservation's (WDC) campaign to protect the seas.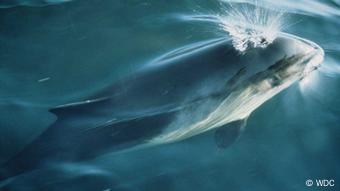 Measuring under two meters, the harbor porpoise is one of the world's smallest marine mammals
An unintentional trap
Ritter says the main threat to the harbor porpoise is getting accidentally trapped in fishing nets that are intended to catch smaller fish. The type of net most commonly used is the gillnet, because of its effectiveness, ease of use and affordability, according to Claus Ubl with the Deutsche Fischerei Verband, Germany's fishing association.
Conservationists are encouraging the use of different types of nets. However, fishers - especially those with smaller fishing units - say the cost of using different netting could also cost them their livelihoods.
"The problems with using alternative gear, like trapnets, is that they don't work cost efficiently and are not economic," Ubl told DW. "The catchability is too low. Gillnets work most effectively."
Harbor porpoises, however, are often unable to detect gillnets until it's too late. And Ritter says that his organization is finding that the juveniles are actually more likely to get caught in the netting, which increases the likelihood of further depopulation.
Informing the public
Ritter, as well as other conservationists and scientists, believe that only by informing the public about these animals will they have a chance to save them. The WDC, along with other European and international organizations, like NABU, Oceancare, and ASOCOBANS, have teamed up in the effort.
The Static Acoustic Monitoring of the Baltic Sea Harbour Porpoise project (SAMBAH) spent two years capturing the sound of these creatures, and has developed distribution maps of harbor porpoises and identified areas where the animals are at risk of coming into contact, negatively, with human activity.
This harbor porpoise died when caught in a gillnet
"As long as the German public doesn't know and doesn't care about these little porpoises, the German government won't do anything to protect them," says Laura Doehring who is part of the communications team for the campaign.
One way that people can get to learn more about the intelligence of porpoises is by getting exposure to 'whalish,' the language of the closely-related whales. On a special website users can type out phrases in their own language and hear it translated into 'whalish,' to give them an idea of how the marine mammals sound.
Additionally, the WDC campaign has put out a call to artists and members of the public to design images of the harbor porpoise. The winning design will be presented at the German Environment Ministry in November, when conservation organizations hope to resume talks about enforcing protected zones in the Baltic.
German authorities under pressure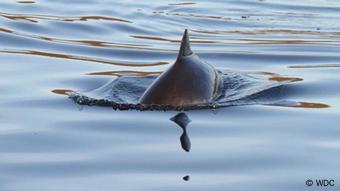 Don't call me a shark: the dorsal fin of a harbor porpoise surfaces above water
"In November 2012, there was an obligation for Germany to designate marine protected areas and to develop management plans for harbor porpoises," Ritter said. "This has to be done by November 2013, a very clear deadline set by the European Union. As far as we can see, Germany will miss that deadline."
In response, a spokesman for the German Environment ministry told DW that he was still hopeful that Germany would set up the legal framework for the marine protected areas in time. "It shouldn't be forgotten that a number of different interests need to considered here, including those of the fishing industry," the spokesman explained.
Still, environmental organizations resolve that they will continue to put pressure on the government to ban netting that puts harbor porpoises at risk. They also want restrictions on military activity and exploration in search of oil and gas in the protected zones.
After all, there is no time to lose, according to Ritter. "You could argue that every day counts because every day there may be more harbor porpoises entangled somewhere in the Baltic Sea," Ritter said.