Friday evening's two-hour opening ceremony in Baku's Olympic Stadium was kicked off by Azeri President Ilham Aliyev, who entered the stadium with a flaming torch at the start of a dazzling show produced by Dimitris Papaioannou, the producer of the 2004 Olympics ceremonies in Athens.
Aliyev, along with Russian President Vladimir Putin and International Olympic Committee President Thomas Bach, watched from the stands as 6,000 athletes marched into the stadium, kicking off the 16-day games. Thirty-five other heads of state also attended the ceremony, which depicted the history of Azerbaijan in a colorful display.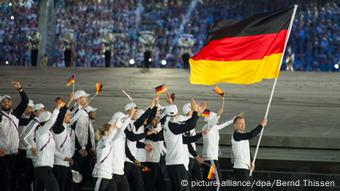 Gymnast Fabian Hambüchen carried the flag for Germany
Azerbaijan, which was awarded the games by the European Olympic Committees (EOC) in 2012, has spent more than a billion dollars (888 million euros) organizing the event, including on the construction of several venues from scratch.
US pop star Lady Gaga made a surprise guest appearance, performing John Lennon's song "Imagine" at a flower-covered piano.
In a brief speech, the president of the EOC, Patrick Hickey, described the Games in Baku as "a landmark moment" for European sport.
Few big names
The games in Baku will feature 50 nations, but have largely failed to attract big names in the fields of athletics and swimming. Boxing and wrestling are, however, expected to come up to near-Olympic standard.
Human rights activists around the world - with the exception of Baku itself, where demonstrations are heavily restricted - protested on Friday ahead of the ceremony. Azerbaijan is frequently accused of engaging in political repression under Aliyev, whose family has ruled the country since 1993.
On Thursday, jailed Azeri journalist Khadija Ismayilova criticized the government, describing the country as being in a "human rights crisis" amid widespread corruption.
In the letter, released by the PEN international writers organization, which said it had been smuggled out of the prison in pieces, Ismayilova said, "Things have never been worse."
US pop star Lady Gaga sang John Lennon's "Imagine"
Regional rivalry
Despite demands from the government for politics and sport to be kept separate during the Games, the athletes from Armenia, Azerbaijan's traditional rival, were booed by the crowd.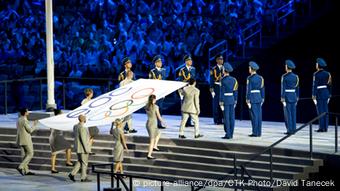 The European Games run until June 28
Azerbaijan's Nagorno-Karabakh region and other territory nearby have been controlled by Armenian soldiers and local forces since a six-year war ended in 1994 with a cease-fire. Several soldiers from both sides were killed in the region as recently as April.
The opening ceremony was also overshadowed by news of an accident in the athletes' village on Thursday, in which a 15-year-old Austrian swimmer was left with serious spinal injuries when she was hit by a bus. Two other teammates were also injured, but less gravely.
tj/ (AP, Reuters)