"We put down our guns in Gaza, instead we took microphones in our hands," raps the Palestinian group Darg Team in one of their songs. Swiss documentary director Nicolas Wadimoff met the rappers in 2009, a month after the end of the Israeli military attack on Gaza.
Living on after the worst has happened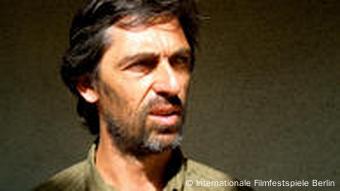 "You could find the same stories in Haiti or Rwanda," said filmmaker Nicolas Wadimoff
His documentary "Still alive in Gaza" ("Aisheen") focuses on a region that has suffered war and destruction for decades. Without allocating blame to either side, "Still alive in Gaza" shows what life is like in the aftermath of a disaster. The film presents people who don't give up amid grief, despair and destruction.
"It is about being human," Wadimoff said. "What I filmed in Gaza - you can see the same things in Haiti, Bosnia or Rwanda. After going through the worst, people want to live."
That is also the case in the small town of Burros, northwest of Ramallah. The local people simply wanted to continue leading their lives like their ancestors had for many generations. But in 2003, the Israeli government decided to build a security barrier between the West Bank and Israel. The fence was to cut right through the village of Budrus, and across the fields that provided the livelihoods of the local farmers.
The non-violent protests organized by Budrus village leader Ayed Morrar and his daughter Iltezam against the measure made international headlines. Local men, women and children as well as members of the rivalling Palestinian organizations Hamas and Fatah and various international and Israeli peace activists participated.
Finding common ground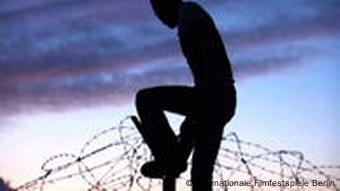 The Isreali fence cuts through fields and villages in the West Bank
For five years, American documentary filmmaker Julia Bacha followed the developments in Budrus with her camera. Her film addresses many controversial issues and neither refrains from showing the aggressive reactions of Israeli soldiers to the protests nor the moments when Palestinian protesters and Israelis start to find common ground.
"I visited my father in prison many times, and all the Israelis I met there were very, very bad," 15-year-old Iltezam said in the film. "But now I know that not all the Israelis are the same. Some of them think that we should live together in peace."
Many films at this year's Berlin Film Festival take a multilayered approach in presenting ways of coping with conflict. And it's not about nostalgia or cloying sentimentality, but about critically analyzing the situation. Coming to terms with the past is meant to help understand the present better - in order to be able to shape the future constructively.
'Violence is no solution'
"Our film wants to show that violence is no solution," said Iraqi director Mohamed Al-Daradji.
His film "Son of Babylon" is set in Iraq, a few weeks after the fall of Saddam Hussein's regime. Ahmed, a bright 12-year-old Kurdish boy, sets off with his grandmother in search of his father who was arrested by Saddam's Republican Guard at the end of the Gulf War. As they travel along bombed out desert tracks they encounter others with similar quests, searching for a new beginning.
"Son of Babylon" was shot on location in Iraq and relies on a cast of nonprofessional actors. The female lead is played by a Kurd, Shezad Hussen, the only female witness to testify during the trial against Saddam Hussein.
During Saddam's regime, hundreds of thousands of civilians were killed, thousands of Kurdish villages destroyed and more than 1.5 million Kurds were forced to flee their homes in Northern Iraq.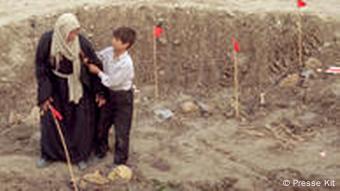 Searching for a new beginning in a country ravaged by terror
"I hope that in the future we will speak three languages in Iraq: Arabic, Kurdish and Turkmen," Al-Daradji said.
In the film, the boy's journey ends at the recently uncovered mass graves from the time of Saddam Hussein's regime. Yet Al-Daradji, like other filmmakers at this year's festival show that even though the past is still very present, in a place ravaged by war, dignity and understanding are also possible.
Author: Silke Bartlick (ara)
Editor: Kate Bowen