Ever since German television started showing his movies, the Indian actor has countless fans in Germany - who already turned out in large crowds at his first Berlinale appearance two years ago. And this time wasn't any different.
There's something special about the relationship between Shah Rukh Khan and his German fans, the actor confessed: "I love all the guys, the men, they are very sweet…but honestly speaking – I cannot lie when I'm in Germany – and normally I'm very honest: I love the girls! They're beautiful, I think..."
His screaming female fans definitely felt the same for him. "I'm so happy I see Shahrukh, that's my dream, he's charming, he's sexy…", one said.
Shah Rukh Khan wouldn't contradict them on this. "I just keep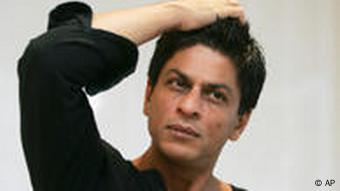 Bollywood actor Shah Rukh Khan charms the camera
getting better-looking every year…I can't control it," he quipped.
Controversial movie
But the "King of Bollywood" hadn't just come for flirting, he also brought a movie to the Berlinale. Tickets for all viewings of his film "My Name is Khan" were sold out within minutes, being as the film is not due to come out officially in Germany until spring, many had queued up for hours in the cold to get one.
The story features a Muslim with Asperger syndrome who faces anti-Muslim prejudices in the United States after 9/11.
Misunderstandings, says Khan, have also led to him and eventually the movie being embroiled in a controversy in India. Shah Rukh Khan had expressed his frustration that Pakistani cricket players were denied the chance to play in the Indian league, and called Pakistan a "great neighbor". After that, right-wing Hindu groups called for a boycott of his film and attacked theaters in India. Many cinema owners got scared and did not show the movie when it was released on Friday.
Tension on the wane in India
In Berlin, Khan said: "I get very disturbed and scared and emotionally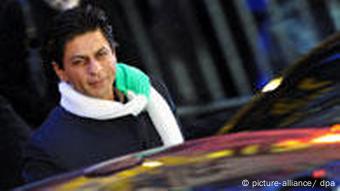 Despite difficulties, Shah Rukh Khan still smiling at the 60th Berlinale
hurt over things like this happening. And I have no problems meeting up anyone, having a chat with them, saying: Listen, it's just a film! Enjoy yourself, have a good laugh, and have fun! And I hope that happens, insha'allah, by the time I get back it should be sorted out!"
In India, the movie has done well over the weekend, as more and more cinemas started screening it. Interestingly, it has also become the largest Bollywood weekend grosser in the United States, where the story is set, earning almost 1.9 million US dollars and attracting positive reviews.
So, after all the anger settles down, it might finally be possible to simply appreciate the movie…
Author: Thomas Bärthlein
Editor: Disha Uppal